The Itinerary
Trip Dates: 10-15 August 2021 (5 nights)
Destination Status:
Amber
Flights: Club Europe, British Airways - £221
Car Hire: Renault Clio, Europcar - £94 + 2,800 Expedia Reward Points 
Hotel (in Tirana): Room with Balcony, Hotel Theatro - £96 (£48/night)
Hotel (in Vlorë): Deluxe Room, Chic Boutique Hotel and Spa - £235 (£78/night)
How to get there (and back)
Similar to Malta, we had originally booked flights for March of this year to get us to Sofia in Bulgaria but with the UK in lockdown at the time and the constant stream of cancellations we were getting through, we eventually settled for flights to Tirana in Albania. At the time of booking,
British Airways
(
www.ba.com
) were operating daily or twice daily to Tirana. However, from conversations with the ground staff at Tirana and with the crew on the way back from Tirana, I was told that British Airways are increasing their schedule to four-times daily on some days of the week - which is great news for those who find themselves wanting to see Albania for themselves after reading this post! 
Our outbound flight was scheduled to depart Heathrow at 14:20 in the afternoon and was the second departure of the day, getting us to Tirana for 18:25. Our return flight, the last departure of the day, was scheduled to depart Tirana at 20:50 and got us back to London for 22:55.
As you'll probably start to notice with my flying habits, these flights were booked directly with British Airways and cost £221 return, per person, in Club Europe and earned me 160 Tier Points towards my British Airways Executive Club status. 
The airport experience at Heathrow was quick and easy with the only issue really being how busy the South Galleries Lounge was at around 12:30. It was difficult to find seats and we have to wander around the entire lounge before settling for a table in the north end of the lounge. Following the relaxation of COVID-related restrictions, the lounge has semi-returned to self-service but table service is still available for those who want it. In my opinion, table service has made the Galleries Lounge experience feel more premium and definitely something that British Airways should consider keeping. The menu options in the lounge were also very good with a good range of choices across their normal and children's menus.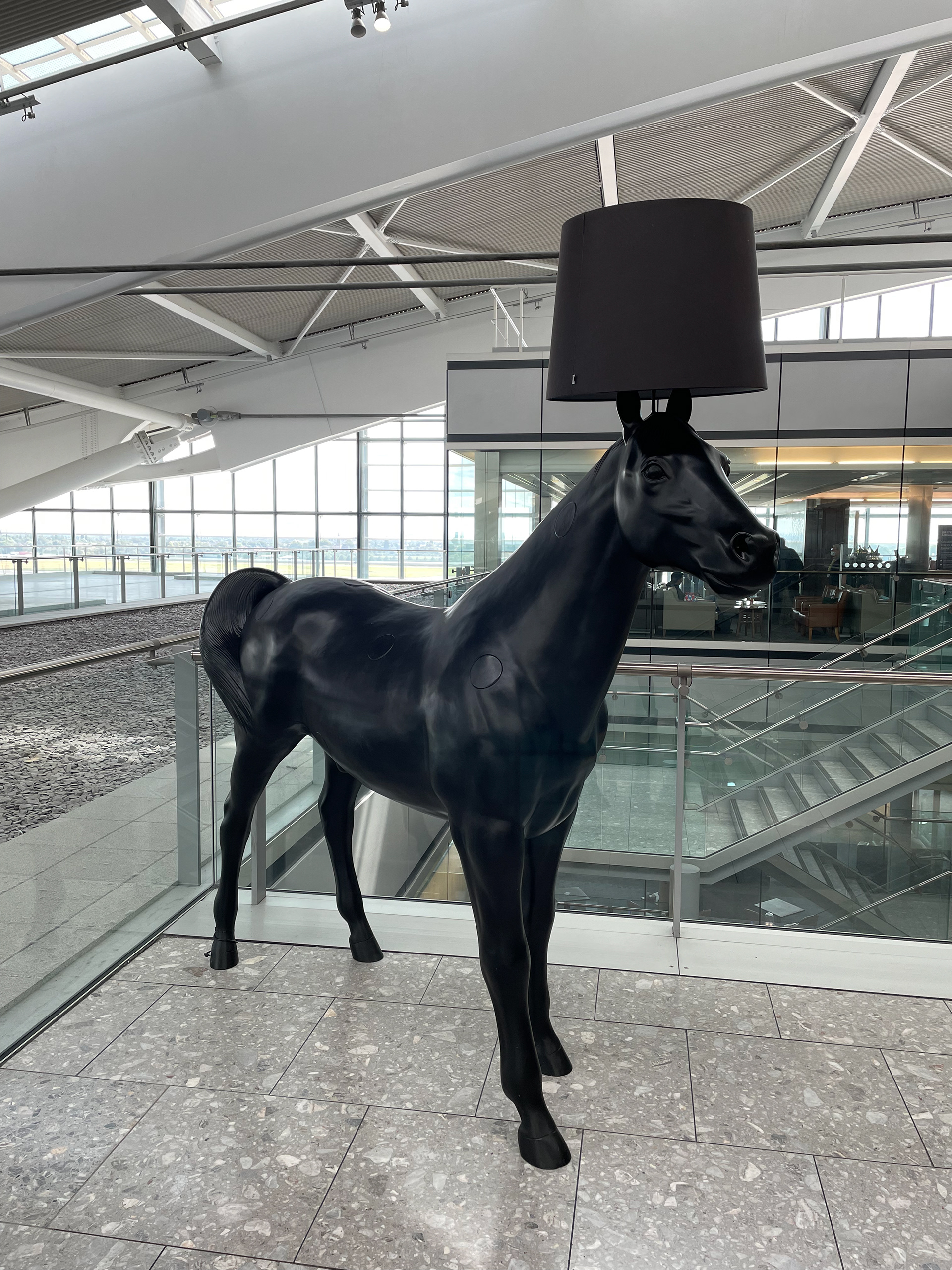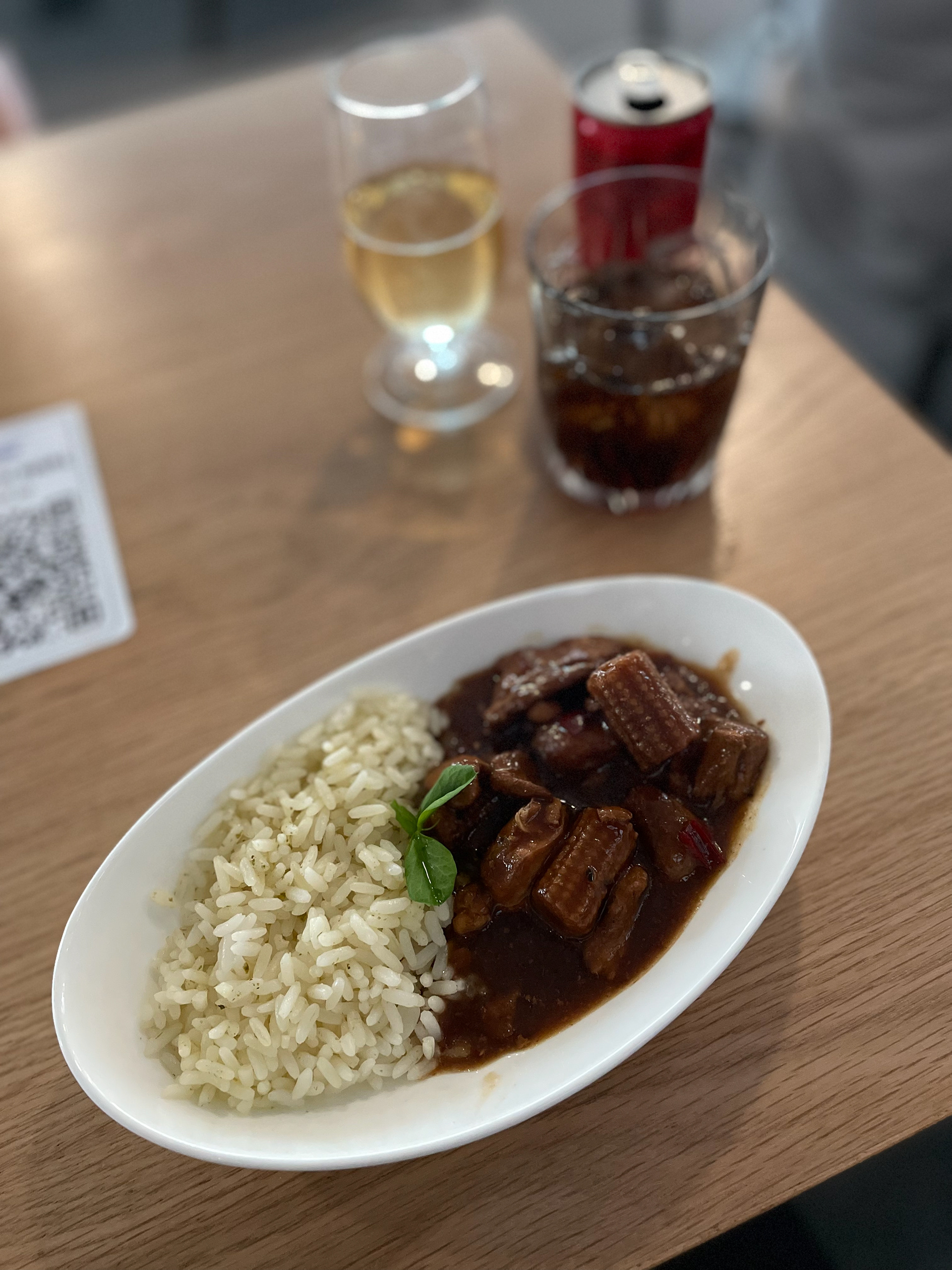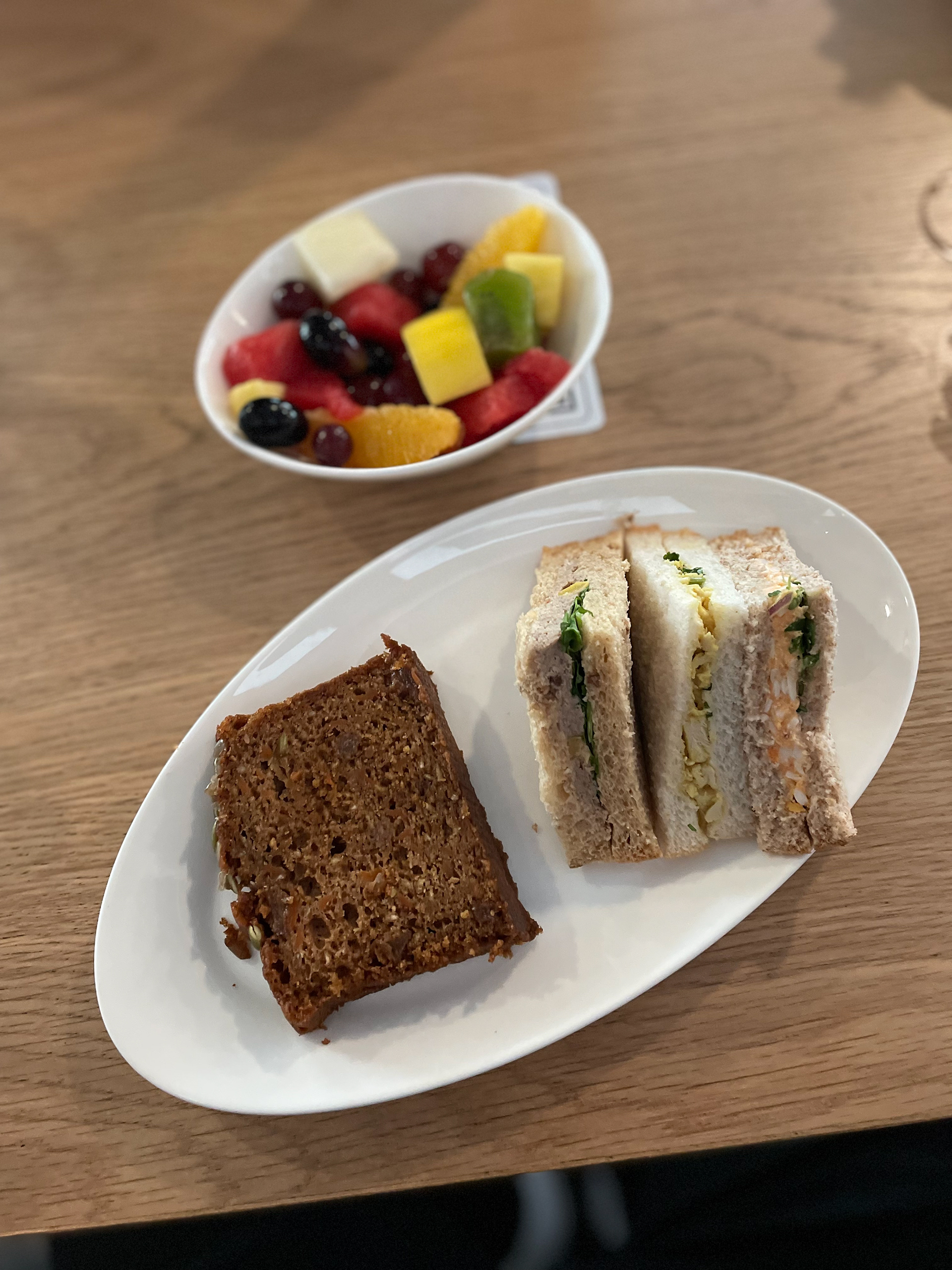 On return, the Immigration Hall was where we dwelled the longest but this was to be expected given how late our arrival was. The eGates were open for those eligible and this sped up the process. All-in-all, we were probably in the Immigration Hall for no more than 20 minutes.
The airport experience at Tirana is what I would describe as organised chaos. If you're arriving into Tirana, you should expect a short bus ride from the aircraft to the terminal building as none of their gates are airbridge served. The Immigration Hall (if you could call it that) is bank of booths set 30 metres from the arrivals doors with no queuing system. You effectively have to pick which you believe to be the shortest line and hope the Immigration Officer in your line is quick worker! If you like your passport stamps, don't forget to ask for one. British Passport holders don't automatically get stamps in their passports. Once through Immigration, you're straight into Baggage Reclaim with their two belts. Once through the exit and Landside, it's crowded and can be overbearing, especially whilst you're trying to figure out where to go and acclimatise to a new country. 
The same chaos applied to our departures journey. We arrived just over three hours before our flight's departure time to try get me a better seat. I'd chosen seat 2A a couple of months ago using my Silver status and had hoped to secure a front row seat 72 hours before departure. However, as Tirana isn't managed using British Airways' FLY system, the seats weren't released for passengers to choose and were instead assigned to passengers who hadn't chosen their seats yet. Aaron, who I was travelling with, lucked out and had secured seat 1C through that process. After waiting almost an hour after we arrived for check-in to open, I was told that I couldn't get my seat changed and that I'd have to wait to swap with someone on board. As frustrating as it was, it really was a first world problem. The rest of the airport experience was good with British Airways providing lounge access to Club Europe passengers in the airport's own run Business Class lounge. As with all outstation lounges, the provisions can be hit-and-miss and there wasn't really much choice here, although the lounge was a great place to wait away from crowded departures lounge. Weirdly, Duty Free wasn't open and so we couldn't grab out last minute souvenirs. This didn't make sense as all other outlets were open and the airport was bustling! 
Travelling in Club Europe, both flights were really comfortable. Having managed to bag seat 1A on both flights (thank you to the kind lady who swapped with me on the way back!), I had great leg room to stretch out and enjoy the sub-3 hour flights. Tirana is a Band 4 route for British Airways, which means it has the most enhanced levels of service for European flights. You can expect the usual smaller "cabin" divided by curtains, a guaranteed empty middle seat and a meal (more on this later) and drinks service plus, if you're a napper or can easily get cold on a plane, a pillow and a The White Company blanket. What did make both journeys a lot more enjoyable than usual were the crew. Both sets of crew, led by Elia on the outbound and Chris on the return, were friendly, attentive and quite happy to chat-away. What used to be a rarity with British Airways crew seems to be becoming the norm - and I, for one, love it! 
One thing that has been disappointing is that British Airways seem to be serving the same meal options on European Band 4 flights with no rotations through new menus. On all three non-breakfast flights that I've flown over the past couple of months, I have been offered the same options: Lamb Shepherds' Pie or Spinach Gnocchi.  What has changed is the dessert offered, which is now an Eton Mess instead of the Green Tea Tiramisu. The Eton Mess is a welcome change and amazing - so much so that Elia noticed and offered me a second without me asking!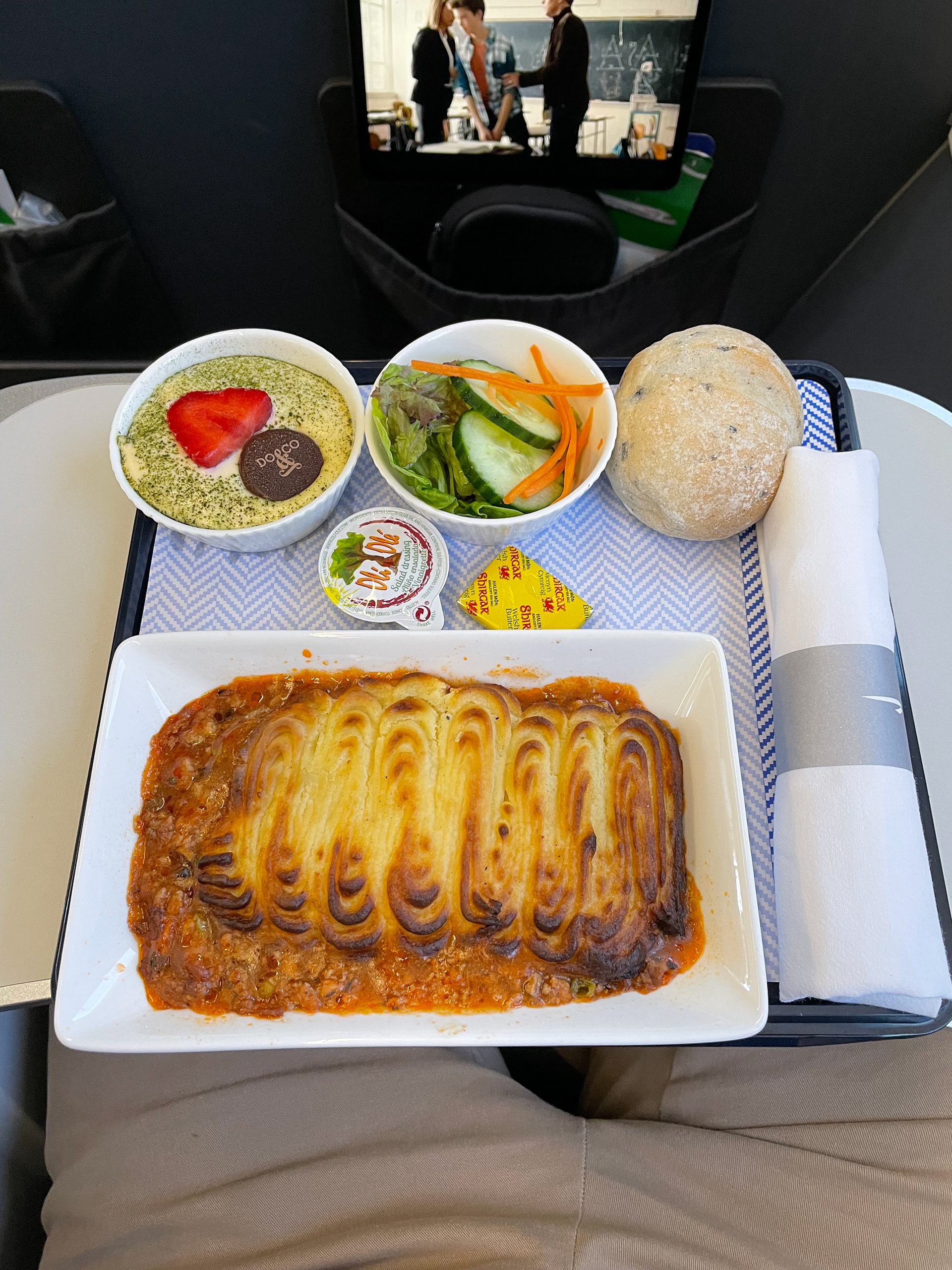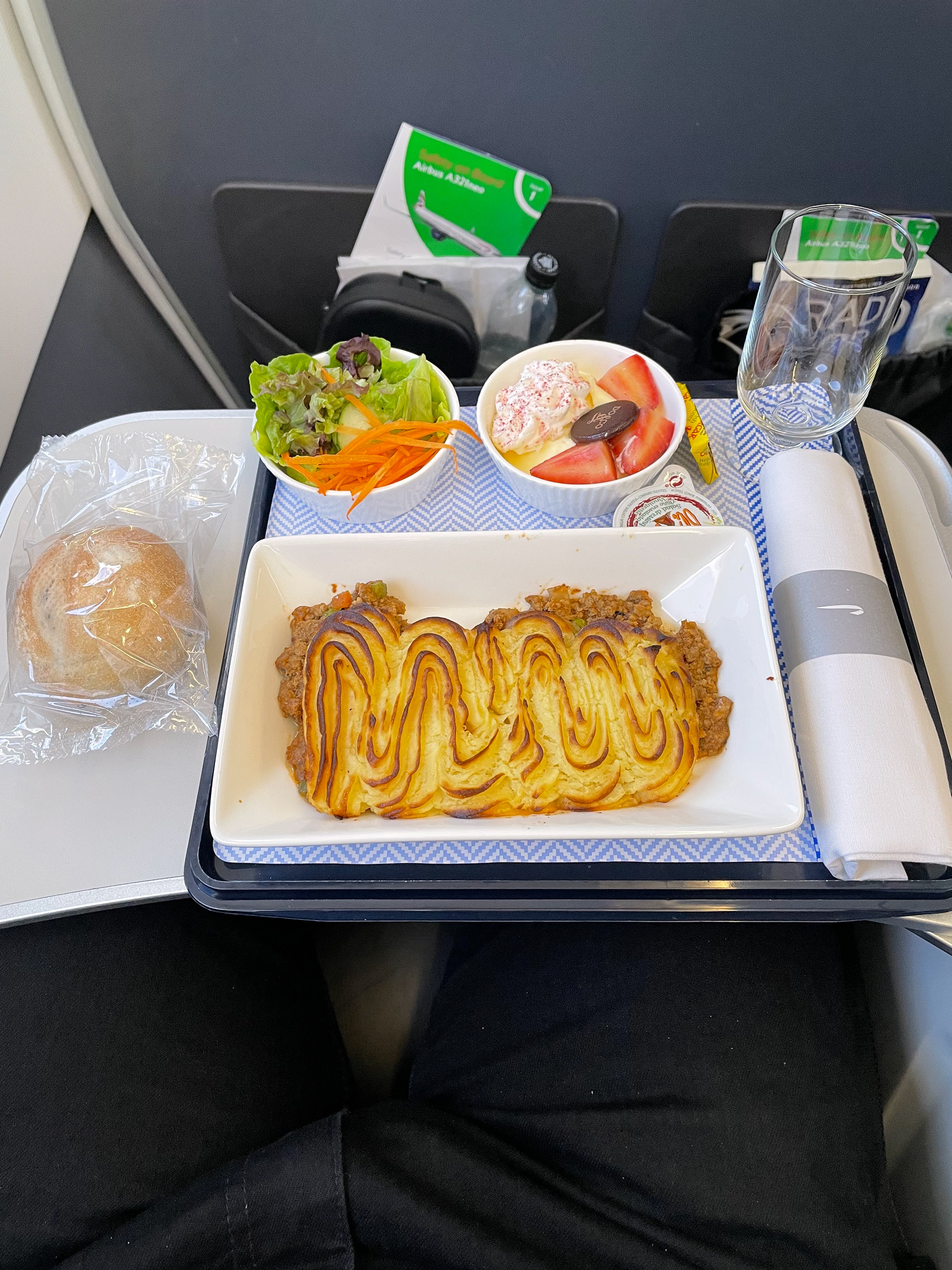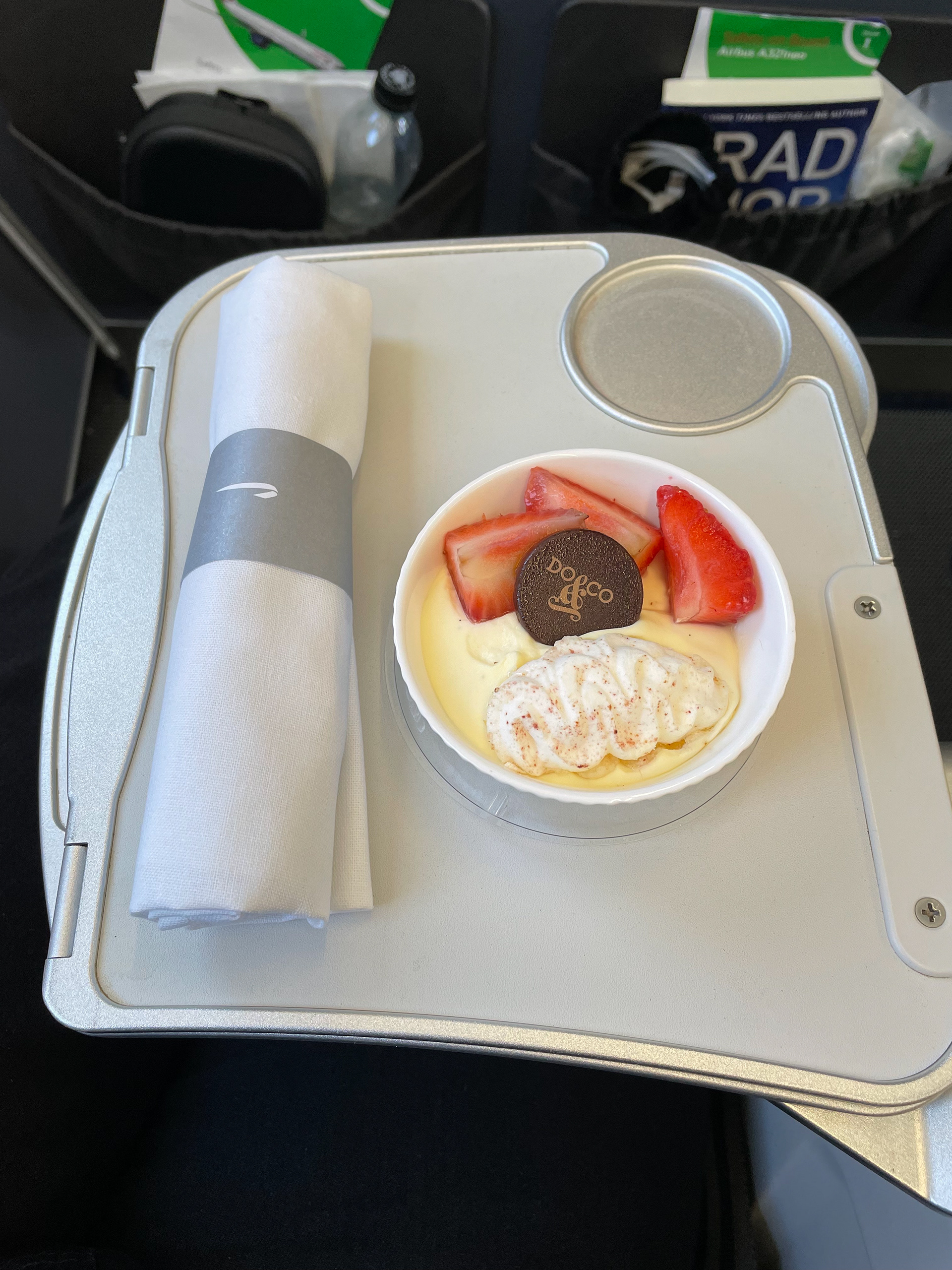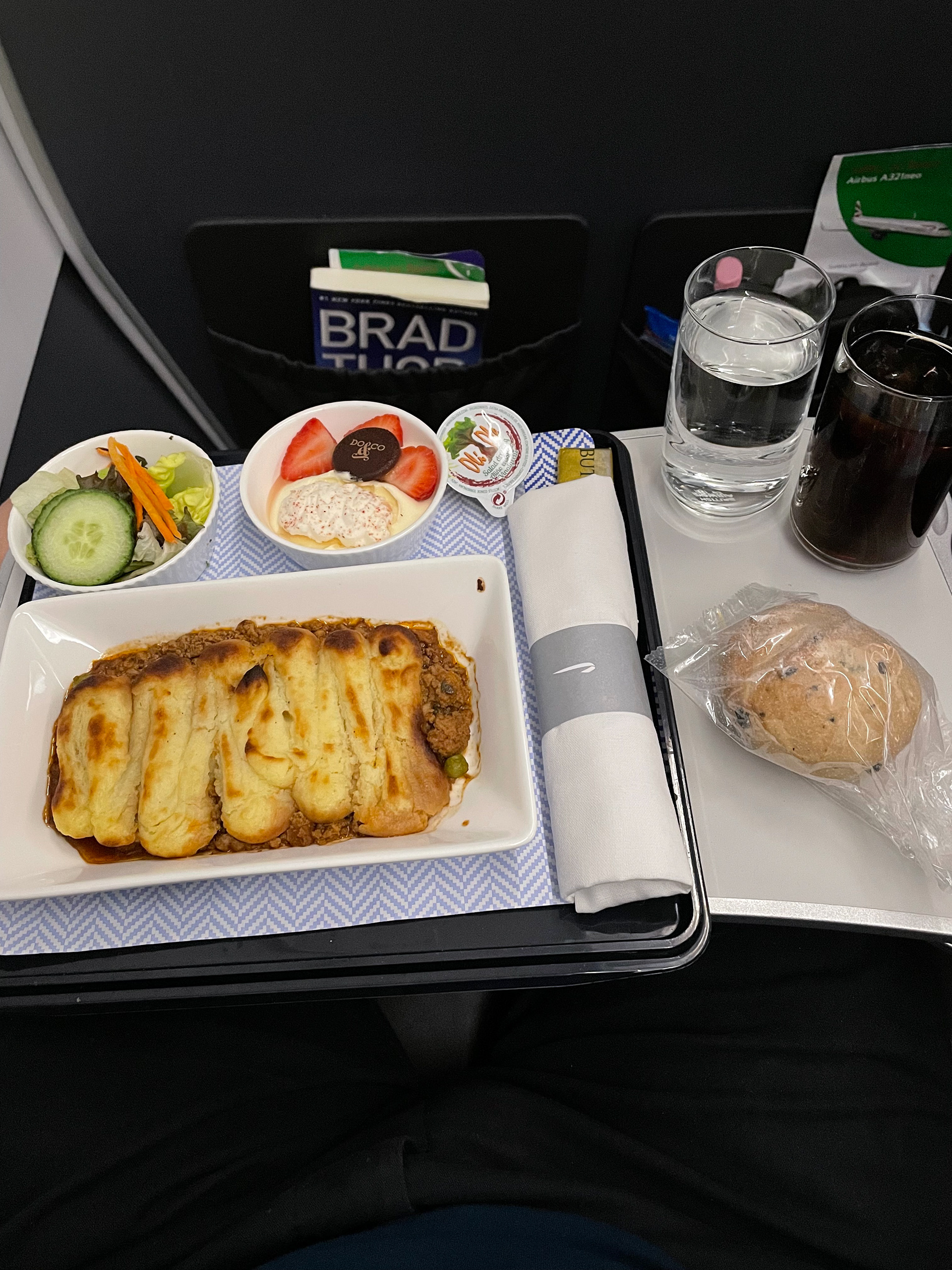 How to get around
Whilst getting around on public transport isn't entirely impossible in Albania, it is extremely difficult. With a limited rail network, the country relies heavily on buses and, based on the volume of cars on the road, people choose to drive instead. With that in mind, the ongoing risks around COVID and our plans to explore the coast, we opted to hire a car. 
Driving in Albania is not for the faint hearted and, given that they drive on the right in left-hand drive cars, can pose additional dangers for those not used to driving in Europe. Even with experience of driving in Europe, I had trouble getting used to the Albanian driving etiquette where giving way pretty much doesn't exist and driving defensively is the only way you'll get anywhere. That said, we didn't come across any accidents and parking is generally free in most places. The drives are also breathtaking in terms of scenery but also height - at one point we climbed up to 1000 meters through sharp turns along the face of a mountain! 
Car hire can be cheap if booked early. Ours was relatively cheap with 5 days car hire with
Europcar
(
www.europcar.com
) via
Expedia
(
www.expedia.co.uk
) priced at £110 (or £94 + 2800 Expedia Reward Points) for a Renault Clio. As always, I bought my own excess insurance for £20 for the duration of my car hire via
Questor Insurance
(
www.questor-insurance.co.uk
), which saved me hundreds of pounds when compared to taking out full collision damage waiver (CDW) insurance via the hiring company, although this wasn't offered on pick up of the vehicle. 
Roaming in Albania isn't usually covered by your mobile phone network in the UK so save some money and purchase a SIM at the airport. Vodafone offer a 15GB SIM valid for 21 days for around £11.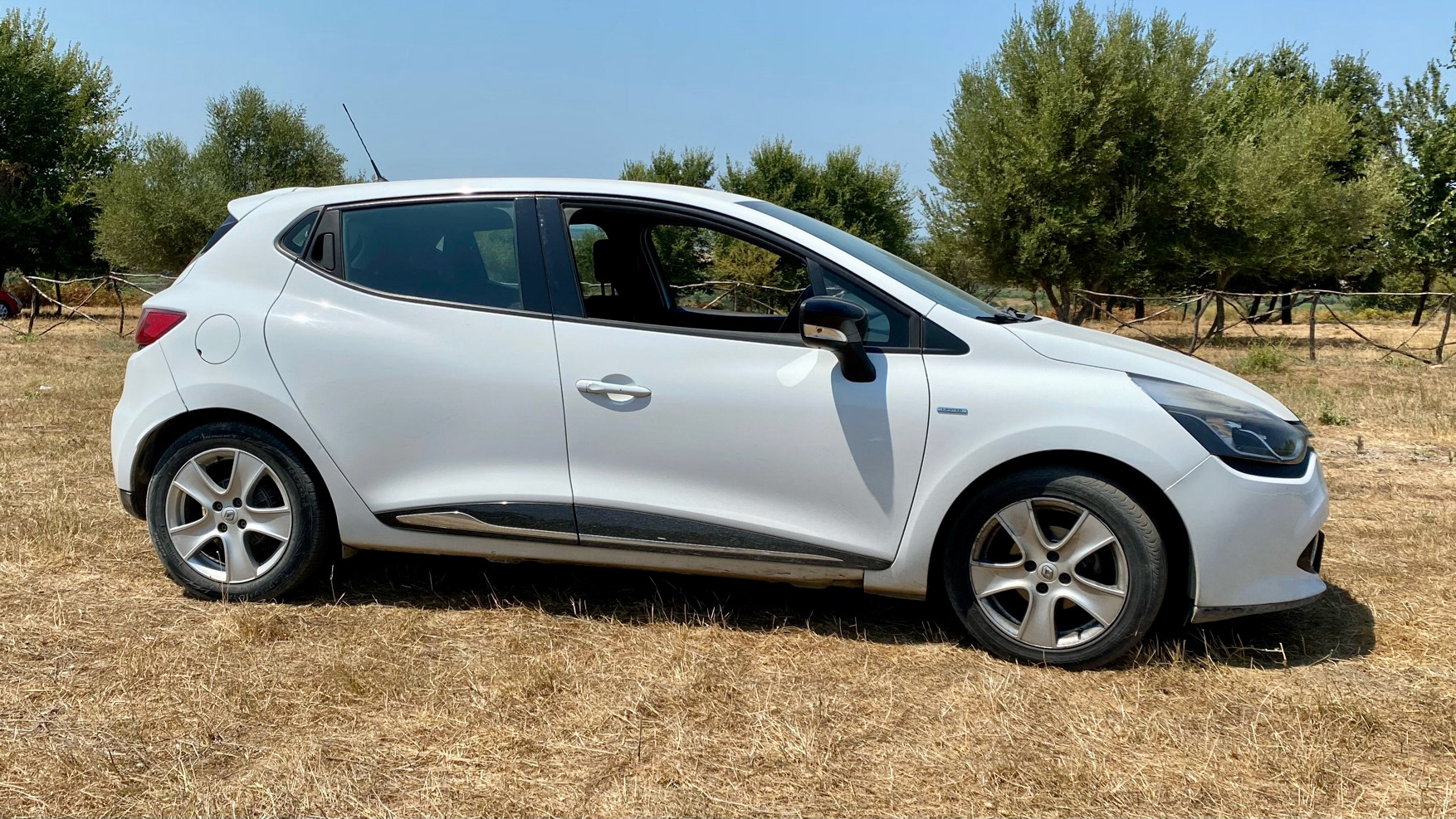 Where to stay
Our trip was planned around two bases of operations: Tirana, the capital of Albania, and Vlorë, located around halfway down the coast of Albania. There were limited properties belong to my two go-to hotel groups: Accor and Hilton. Whilst Accor had a newly opened Movenpick property in Dürres, that was tad too luxurious for this trip, Hilton's Garden Inn in Tirana had closed temporarily due to the COVID pandemic. This led to our two stays being with independent hotels. 
In Tirana, we stayed at the
Hotel Theatro
(
www.hoteltheatro.al
) for 2-nights. Located around 30 minutes from Tirana's Mother Teresa Airport and a short walk into Skanderberg Square, the hotel was very conveniently located and provided free parking for our car whilst it wasn't need for our day of exploring Tirana city centre. The location of the hotel meant that whilst we were in Tirana, we didn't spend any money on getting around. 
The hotel was relatively modern and, whilst the hotel is officially rated as 4*, the room was extremely small and made it feel more like a 3* hotel. On the plus side, we had a balcony which overlooked the quieter side of the hotel but there was no seating. The room was clean and provided everything we needed for a good night's sleep. Just be careful when booking rooms here if you're staying with someone else as the bathroom walls are glass with a blind for privacy! 
A twin room with a balcony costs around £48/€56 a night. There are other room types, including singles and doubles. 
In Vlorë, we stayed at the
Chic Boutique Hotel and Spa
(available on www.booking.com) 
for 3-nights. Located on the beachfront of Vlorë, it's perfectly placed for exploring the third most populated city of Albania. Along the promenade, you'll find a host of bars and restaurants within walking distance as well as a decent stretch of beach with good facilities for sunbathing. It's west-facing location means that you'll also get a beautiful sunset each evening. At night, there are market stalls and entertainment just across the road in, what appears to be, Vlorë's defacto public gathering place. 
The hotel was brand new, having only opened a few weeks prior to our stay, and the spa was still being completed during our stay. Meticulously designed, the hotel was modern and finished to perfection. Whilst the staff were new and many were still in-training in hospitality, they worked extremely hard and were well supported by an experienced hotel manager. The room was spacious (and the manager told us that we were actually staying in the smallest room) and the bathroom was so well designed I wanted to pack it up into boxes and take it home with me! As with all new hotels, there are teething problems and ours was that housekeeping hadn't noticed a pair of dirty socks in the draw from a previous occupant. The receptionist was extremely apologetic when this was flagged and the team were quick to rectify this and also smooth things over with some complimentary drinks. 
A deluxe double room will set you back £78/€90 a night, but it's well worth the price. Larger rooms are available including rooms with balconies and a suite. Each night includes an excellent free breakfast and it's also worth dining once at the hotel's restaurant. 
Parking is free and you may need to hand your keys to reception for their team to juggle parking in the car park and side roads as it is extremely limited.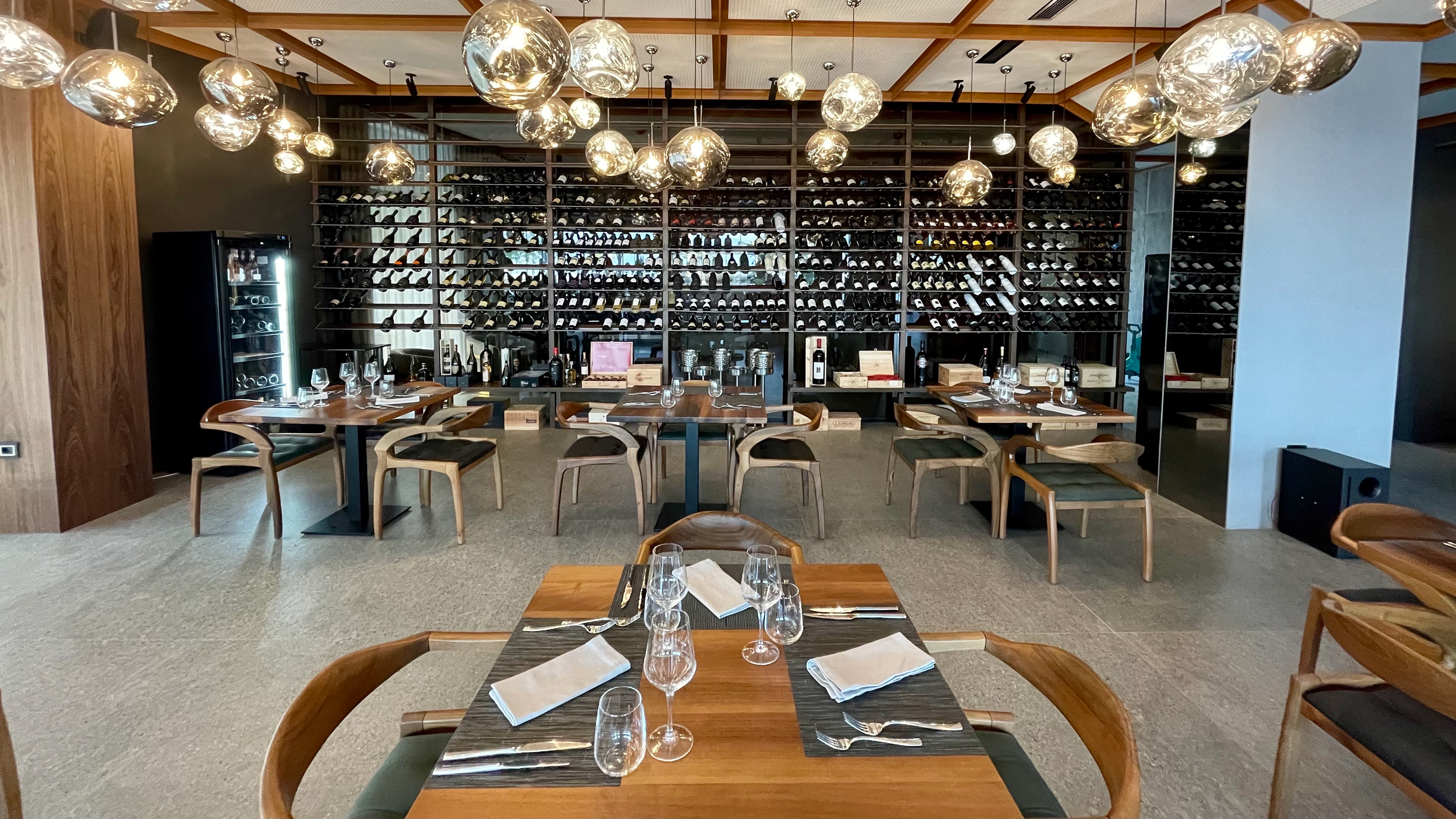 Places to eat and drink
Tek Zgara Tirones
Mediterranean, Barbecue  |  Address:  Rruga Kavajes, Tirana, Albania  |  Pricing: £ 
Having arrived in to Tirana pretty late in to the evening,
Tek Zgara Tirones
was the ideal restaurant for dinner on the first night. Whilst service was slower than we'd have liked (they seemed to have 2 or 3 staff for a full restaurant), the tasty food more than made up for it. Ordering a Mixed Grill with sides to share (£15 for two!), we got our first taste of what our diets would be like for the days ahead, as well as how cheap dining out would be in Albania. 
New Artist Lounge
Bar |  Address:  Rruga Sami Frashëri, Tirana, Albania  |  Pricing: £ 
As we took a wander around Tirana on our first night, we came across the
New Artist Lounge
 (
www.artisilounge.com
) sat just north of the Lana River. The bar is modern and has a DJ every night, although there wasn't much of an atmosphere when we were there. They offer a comprehensive range of drinks, including cocktails at around £4.50 each! 
Café Botánica
Bakery, Café  |  Address: Sheshi Skënderbej, Tirana, Albania |  £
Having slept in a little on our first full day in Tirana, we scouted for a place for brunch.
Café Botánica
 (
Facebook
) is one of the several cafés, bistros and bars located on the eastern edge of Skanderbeg Square in the Opera building. This cosy and relaxed establishment is great for people watching whilst enjoying very reasonably priced and delicious food (I would definitely recommend the French toast!) and drink.
Nouvelle Vague 
Bar |  Address:  Rruga Pjeter Bogdani, Tirana, Albania  |  Pricing: ££ 
A quirky and fun bar located in the heart of Tirana,
Nouvelle Vague
 (
Facebook
) is hands down the best place to grab a cocktail. If there's one bar you have to visit, it's this one. With good music, good cocktails and good vibes, you can't go wrong a visit to this thoughtfully decorated watering hole.
Tip: Be sure to plan this in for earlier in the evening as it closes at 10pm each day.
Shendevere Wine Bar
European, Bar |  Address:  Shetitorja Murat Toptani, Tirana, Albania  |  Pricing: ££-£££
Located within the beautiful Tirana Castle, the classy
Shendevere Wine Bar
(
Facebook
) pairs local, Albanian wines with beautiful European foods and offers both indoor and outdoor, tiered seating. I'd recommend trying a few different wines on their wine list, all of which are very reasonably priced. We ordered the fondue which involved cooking your own meats in oil within a heated pot. Whilst this was fun to begin with, it got a bit boring after a while.  The walnut cake covered in syrup is extremely sweet but addictive and I also tried my first Albanian Mountain Tea, which was "interesting". 
Ballkoni Dajtit
Mediterranean, Albanian  |  Address:  Dajti Ekspres Upper Station, Tirana, Albania  |  Pricing: ££
At the Upper Station of the Dajti Ekspres, you'll find the
Ballkoni Dajtit
 (
www.dajtiekspres.com
) just a short walk from the main station building. The restaurant, designed like a wooden ski lodge, offers breath-taking, panoramic views of Tirana from Mount Dajti and is a great pitstop for lunch. A mixture of classic Mediterranean and Albanian dishes are served here, including their homemade fries, which are delicious! To Aaron's disgust, I tried the grilled innards, which were delicious! 
Restorant Joni
Mediterranean, Seafood  |  Address:  Rruga Murat Terbaci, Vlorë, Albania  |  Pricing: ££
Situated towards the end of the Vlorë promenade, and offering ample outdoor seating with sunset views, is
Restaurant Joni
(
Facebook
). The restaurant has an Italian vibe and serves up a range of seafood-based dishes. The salads are all big enough to share with a main dish each. The choice of desserts is limited but they are freshly made.
Tip: If you sit outside, try to avoid the tables that border the promenade as there are a lot of beggars that will interrupt your meal. 
La Petite
Mediterranean, Seafood  |  Address:  Rruga Butrinti, Sarandë, Albania  |  Pricing: ££
Nestled on the main road that runs through Sarandë,
La Petite
(
Facebook
) offers a quiet refuge from the heat and to top-up those energy levels. With a shaded terrace and it's own small, private beach, the restaurant serves up a wide-range of Mediterranean inspired dishes. Whilst we only stopped for lunch, the ability to hire deck chairs and cabanas could make this an ideal location for a beach day. 
To Steki
Mediterranean, Barbecue  |  Address:  Rruga Butrinti, Himarë, Albania  |  Pricing: £
On the final stop of our Albanian Riviera day trip, we visited the Greek-inspired,
To Steki
(
Facebook
) in Himarë. Although the menu is small, the food is incredibly authentic with a limited number of special menu items each day. With the Albanian Riviera located so close to the border with Greece, I tried the Moussaka (a special that day) which was quite possibly the best Moussaka I've ever had.  
Chic Boutique Hotel and Spa
Mediterranean, Seafood  |  Address:  Rruga Çamëria, Vlorë, Albania  |  Pricing: ££
Where the hotel I stay in has a restaurant, I try to at least dine there once during my stay. The kitchen team at
Chic Boutique Hotel and Spa
do an amazing job of rustling up tasty dishes with the freshest and finest ingredients. We ate here on our final night in Albania and I hugely impressed by the seafood dishes of mussels and sea bream that I'd chosen. We also enjoyed a couple of cocktails here too and I'd recommend the Bellini but advise you steer away from the Hugo.  
Hotel Vala
Mediterranean, Seafood  |  Address:  Rruga Agaveve, Dürres, Albania  |  Pricing: ££
With Dürres being a last minute addition to our itinerary, I'd had little time to research restaurants in the city. I'd taken a bit of a stab at the restaurant in
Hotel Vala
(
www.hotelvala.com
) and we weren't disappointed. Located on the busy beachfront, this freshly designed, rooftop restaurant has beautiful views of Dürres and the ocean. Opting for a light lunch of a seafood dish each and a salad, I'd ended up with the tastiest grilled prawns I've ever had. I loved it so much, I'd actually contemplated ordering a second! 
Gesu Cristo Street Food
Street Food, Fast Food  |  Address:  Rruga Çamëria, Vlorë, Albania  |  Pricing: £
An unusual recommendation from me but a noteworthy one is the
Gesu Cristo Street Food
truck just a few hundred metres from our hotel in Vlorë. Run by two very-hard working local women, they cook up quick eats from burgers to Nutella-filled crepes, which are to die for!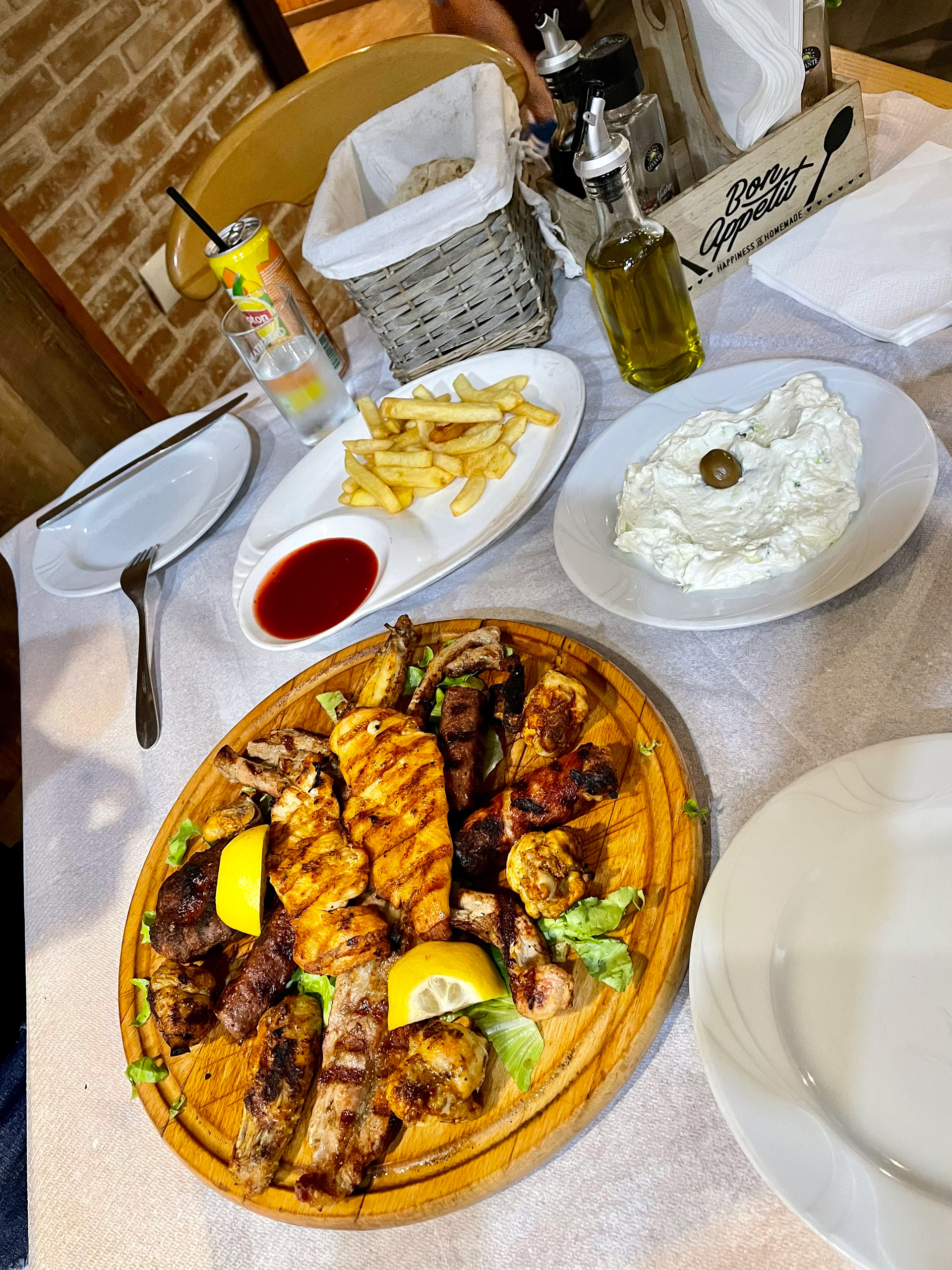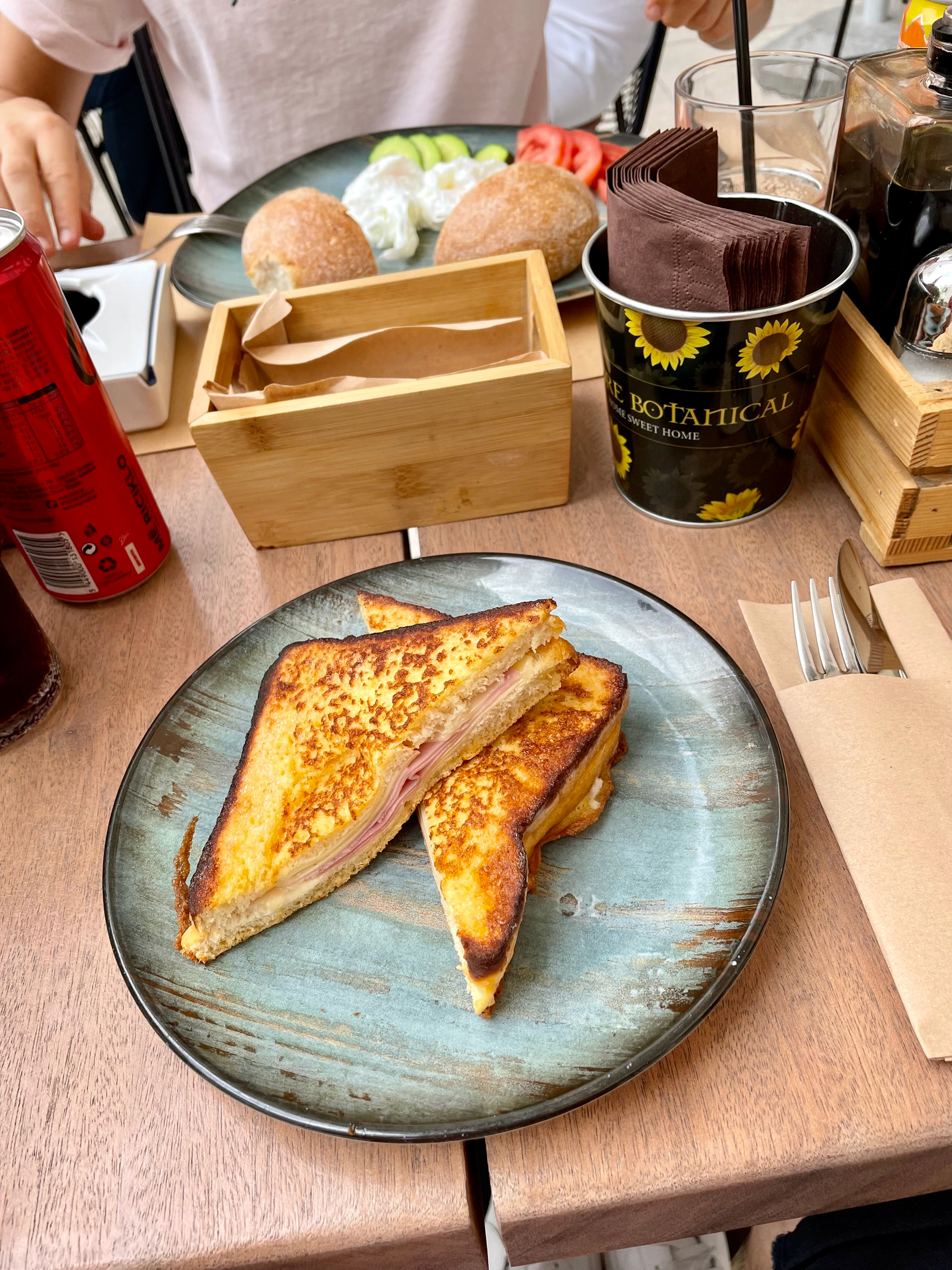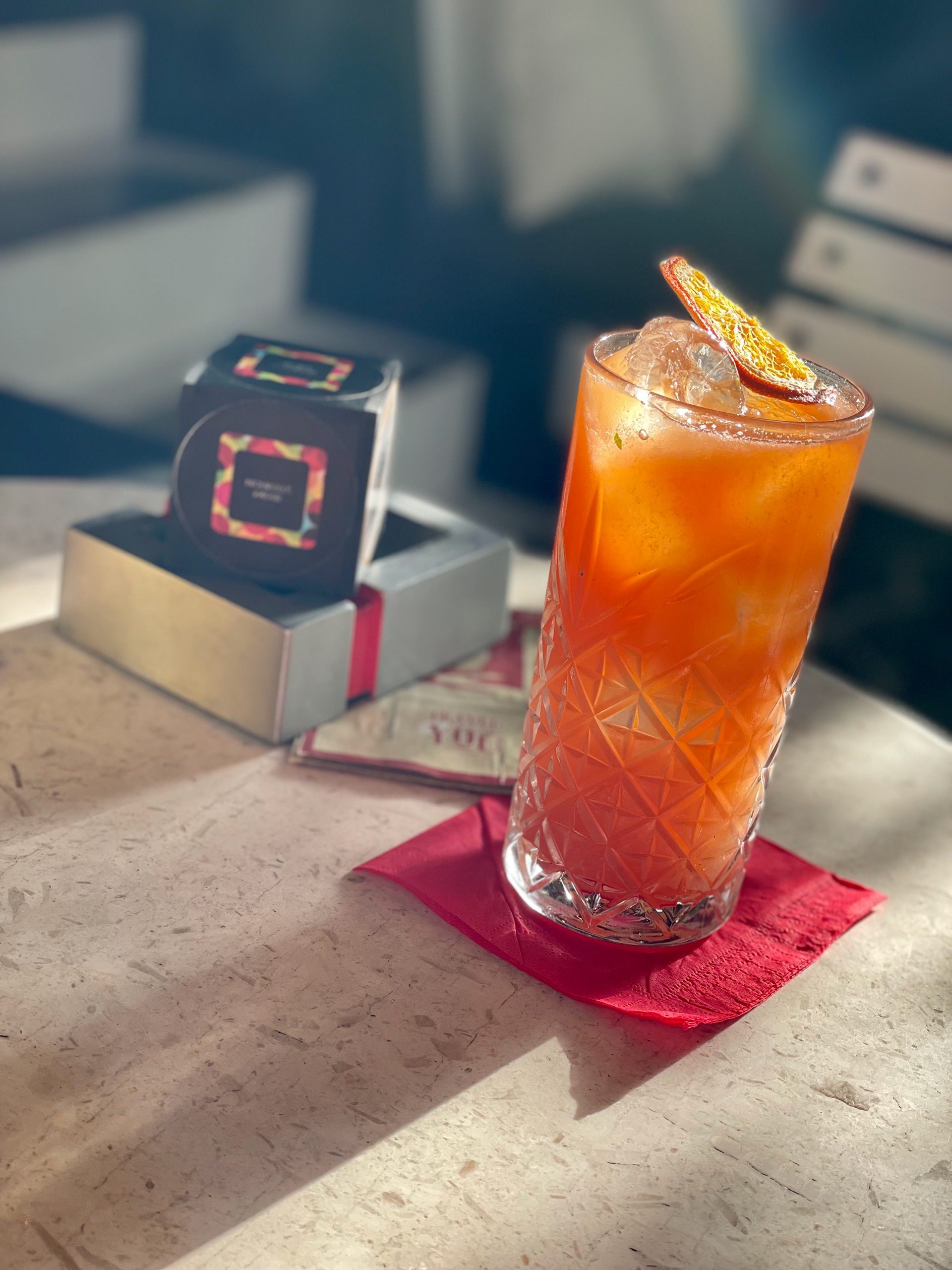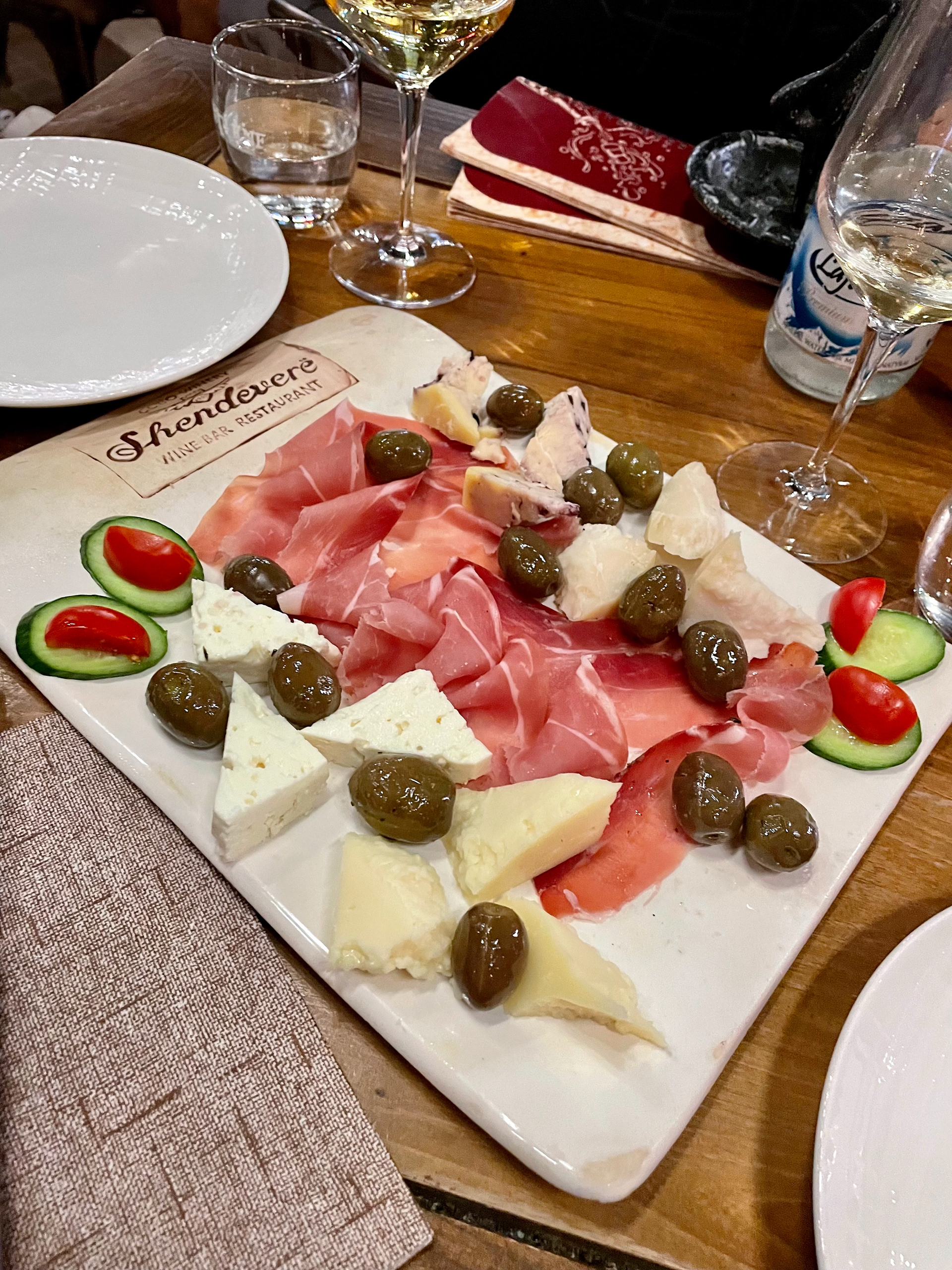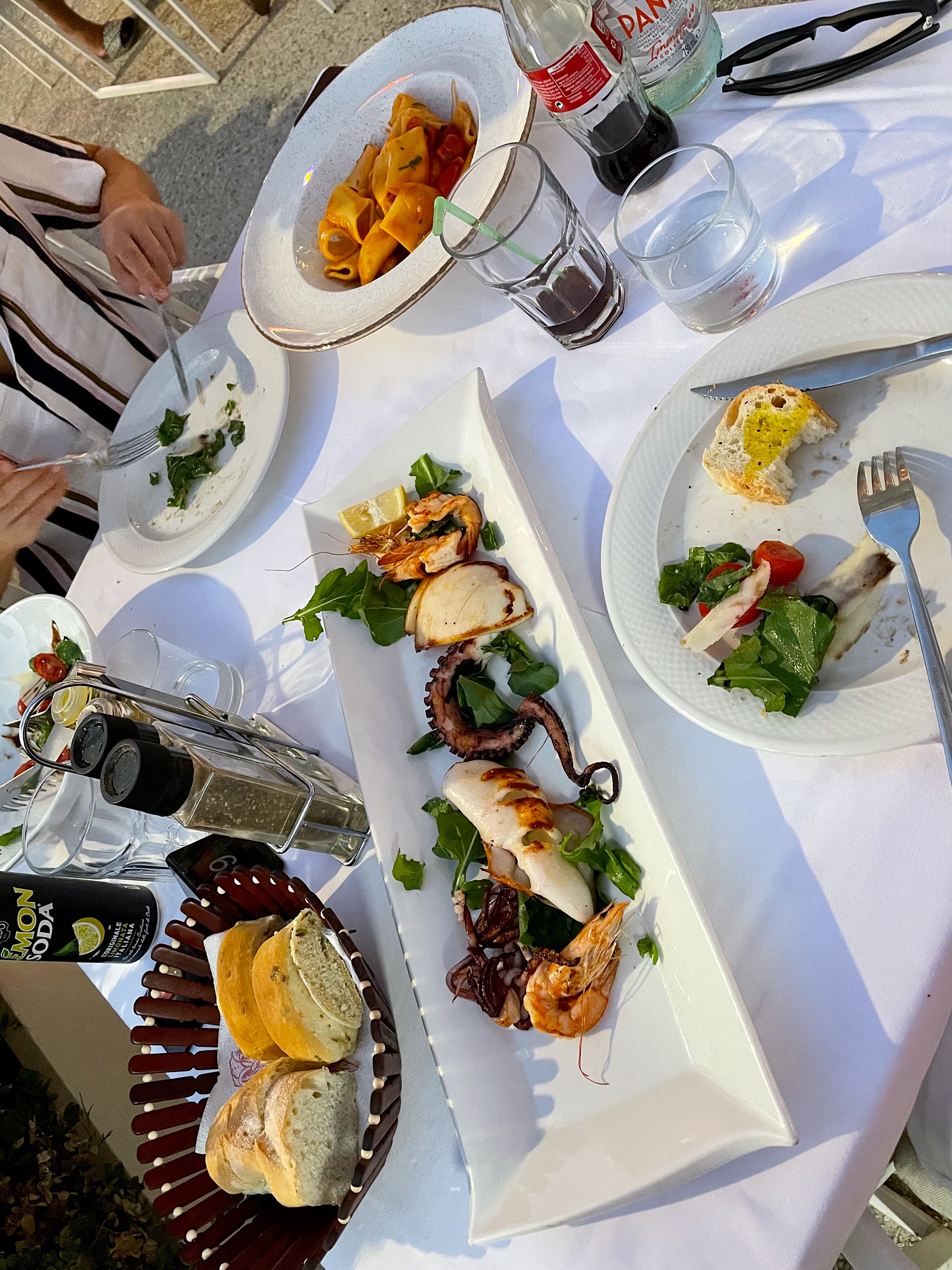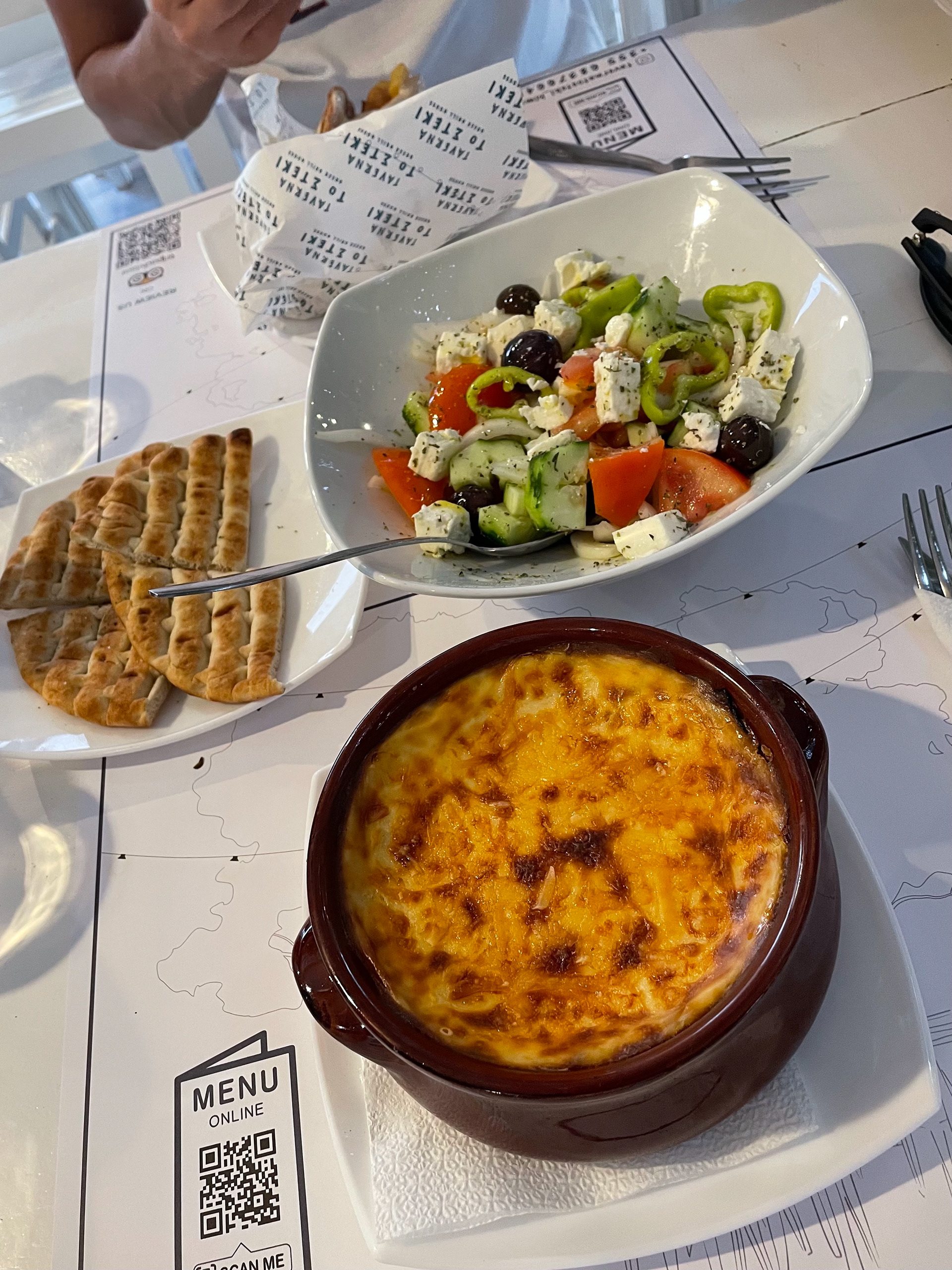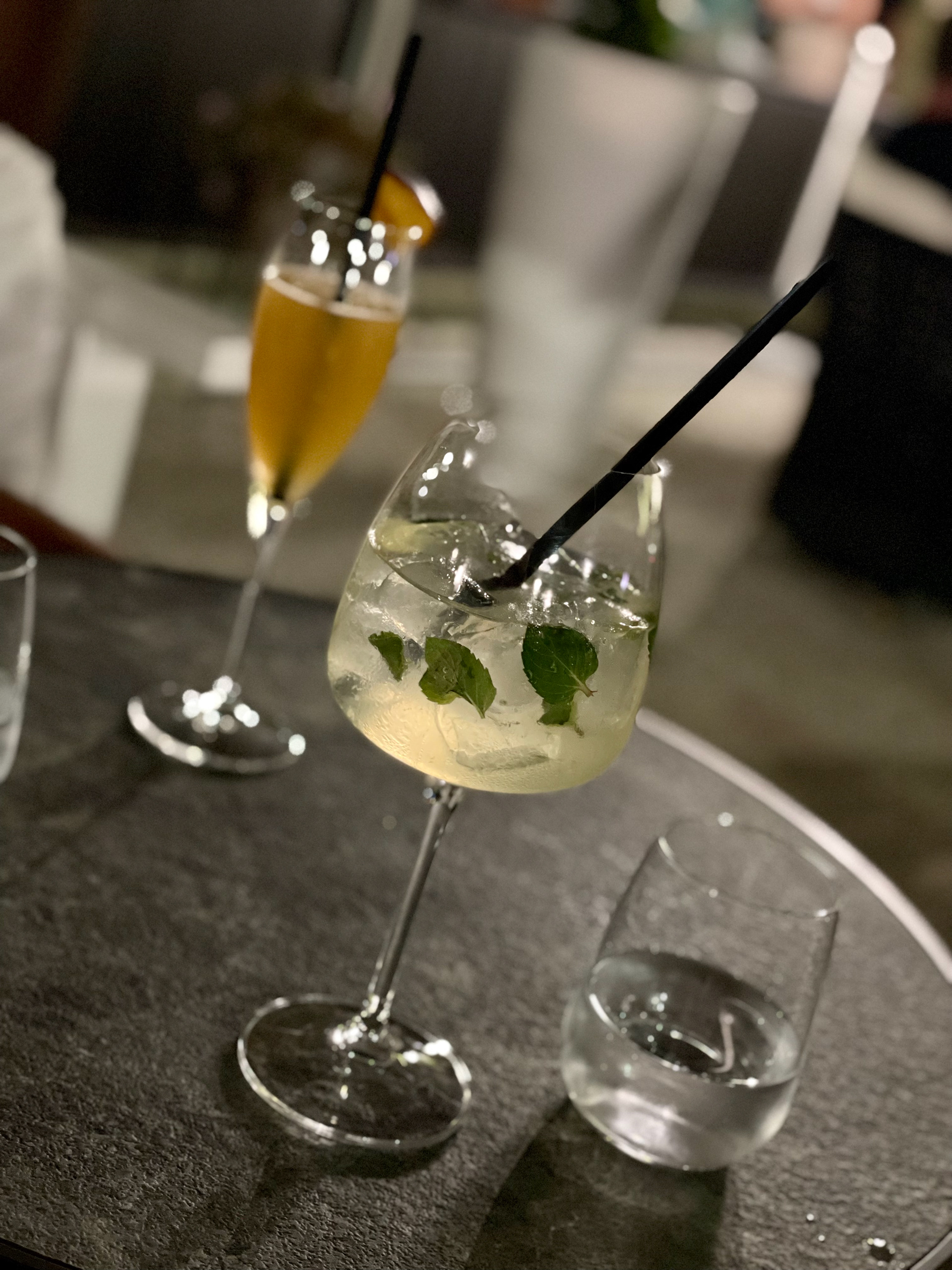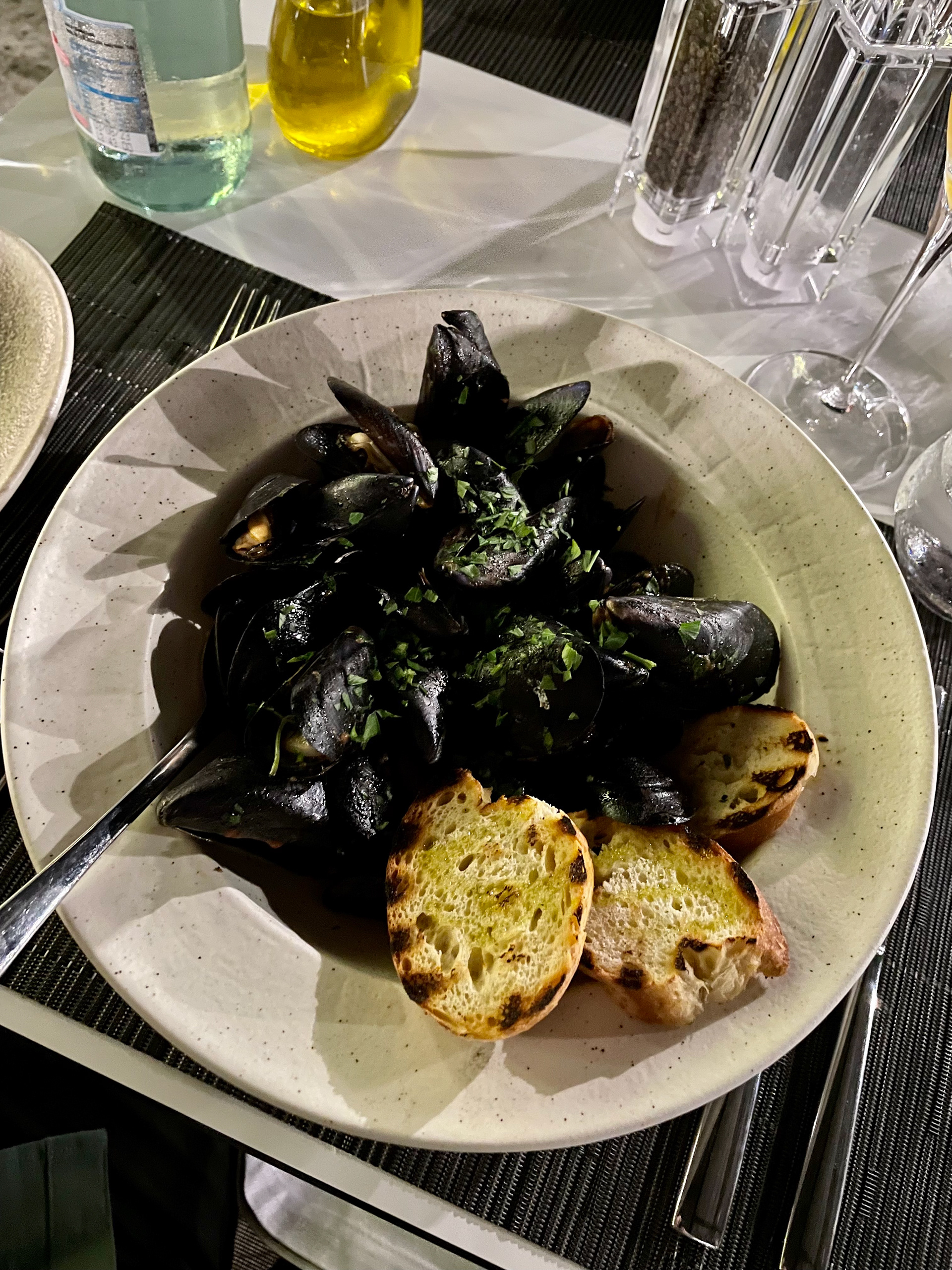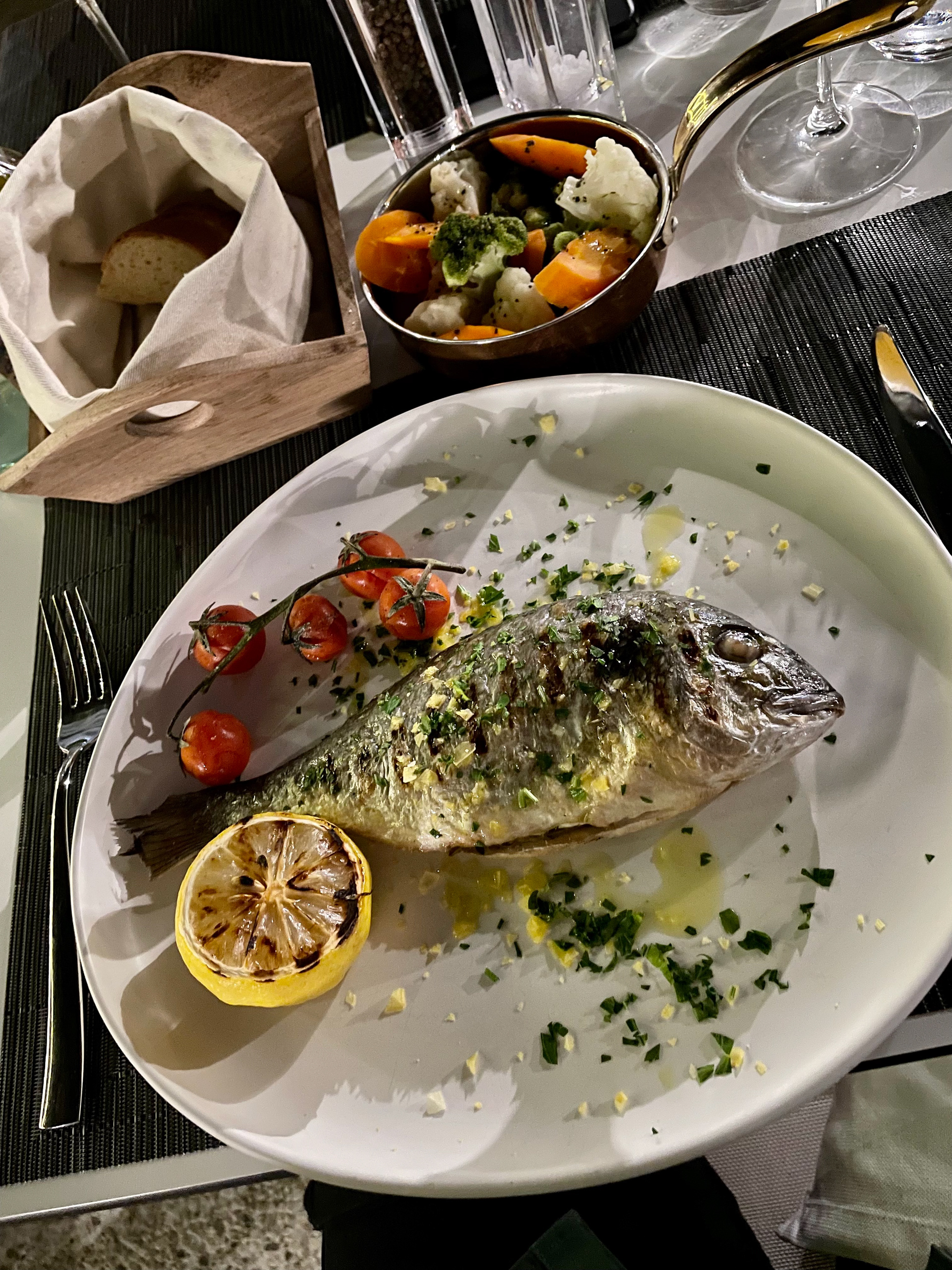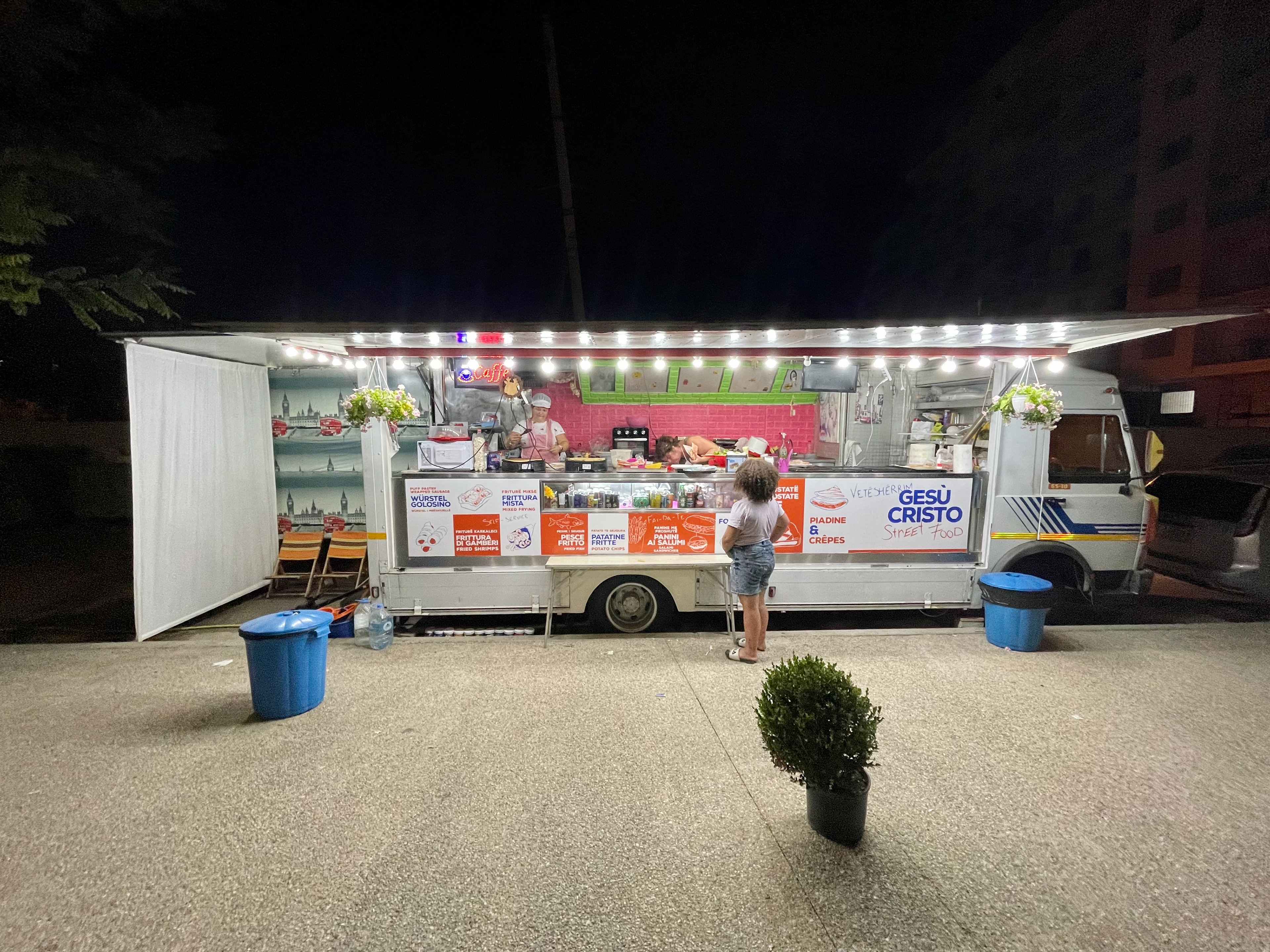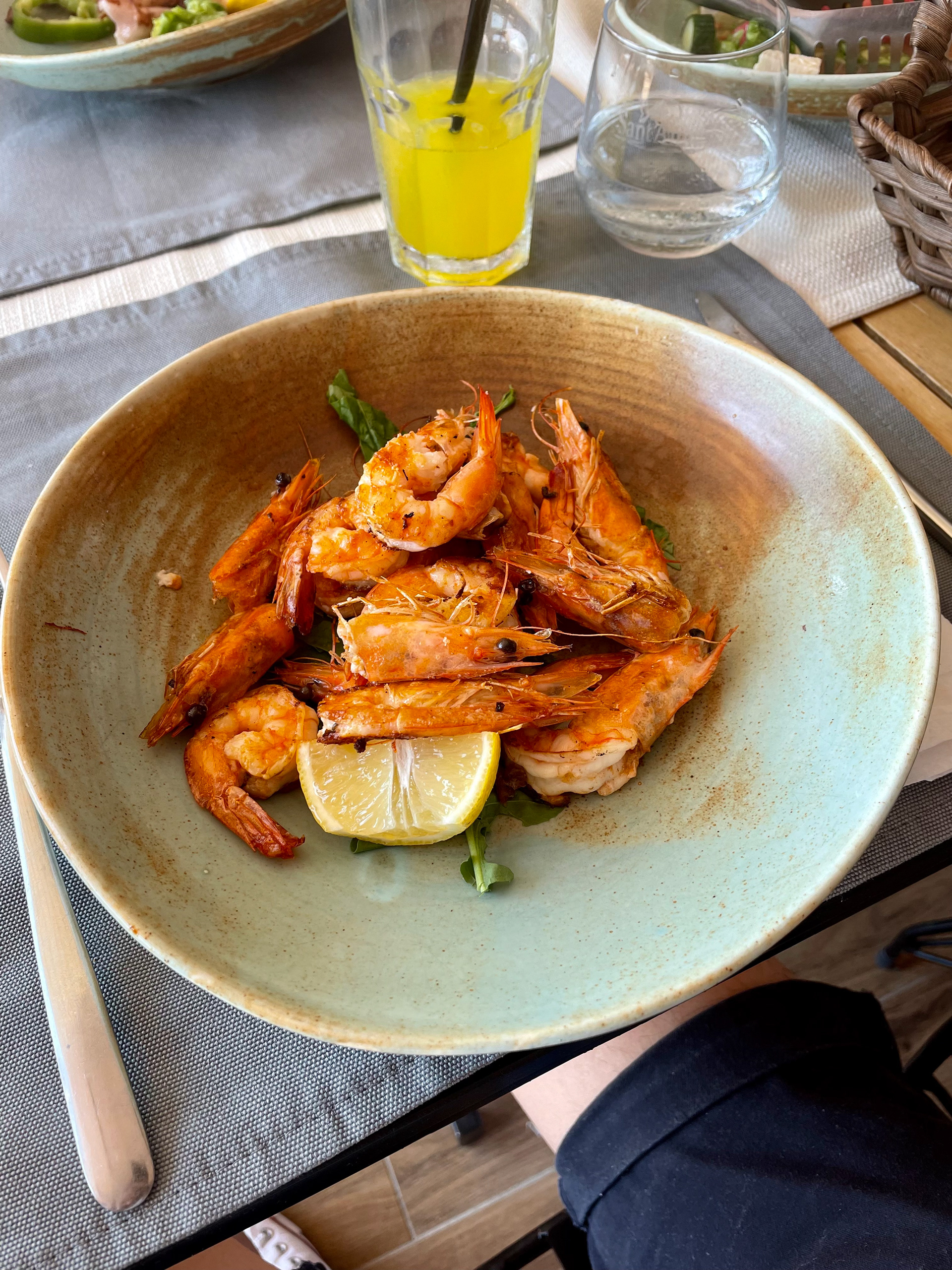 Places to go and things to do
Tirana
Largely unimportant until 1912 and the Albanian Declaration of Independence, the capital of Albania has plenty to offer - from soviet-era history and architectural marvels to panoramic views from the Dajti and sense-tingling food and drink options. The impact of COVID-19 was more evident in Tirana than when we visited Malta as some of the places we wanted to visit were closed for that reason. 
Tirana is a relatively compact city with most of its points of interest accessible by walking. 
Starting in
Skanderbeg Square
, you can take in the views from one of the many cafés, bars or bistros located on the front of the
National Theatre of Opera and Ballet
 building or from the balcony café of the 
Tirana International Hotel
, which was closed during our visit. To the south of the square, you'll find three notable points of interest: the
Statue of Skanderbeg
(a national hero), the
Et'hem Bej Mosque
and the
Clock of Tower of Tirana
. The latter is accessible for a small donation and a climb to the top offers unrestricted views of the square and its surroundings.
A short walk further south brings you to
Bunk'Art 2
(www.bunkart.al)
, the second of the history museums located within soviet-era bunkers. Whilst Bunk'Art 2 is easier to get to, I'd recommend seeing
Bunk'Art 1
first, although this isn't absolutely necessary. It is also the smaller of the two sites and so visit Bunk'Art 1 if you only have time to see one of them. Bunk'Art 2 brings to life the history of the Albanian Ministry of Internal Affairs and the secrets of its political police, the Sigurimi. Plan to spend around 2 hours here. 
A further walk to the South leads to the art installation
Reja
 (also known as The Cloud). This is opposite the
National Arts Gallery
where, if you walk behind the building, you will find several soviet-era statues that once held prime positions across the capital including one of Stalin and one of Lenin. A couple of minutes East is
Tirana Castle
, a development of restaurants and bars within the original fortifications and city walls. 
Head further South again from The Cloud and across the Lana River, you'll reach the
Pyramid of Tirana
, which is currently closed for renovations. Further South yet is a segment of the Berlin Wall named
Postbllok
,
Mother Teresa Square
and the
Air Albania Stadium
. This southwards trek ultimately leads to the
Grand Park of Tirana
, an enormous green space within the city that includes the impressive
Artificial Lake of Tirana
. 
East of Skanderbeg Square and about a 5-minute walk away is the
Pazari i Ri
, a modern market selling food and all sorts of goods. 
Bunk'Art 1
(www.bunkart.al) 
is located close to the
Dajti Ekspres
(
www.dajtiekspres.com
),
the cable car that takes you to the summit of Mount Dajti, and I would recommend doing these two things back-to-back to avoid duplicating the journey across Tirana's busy roads.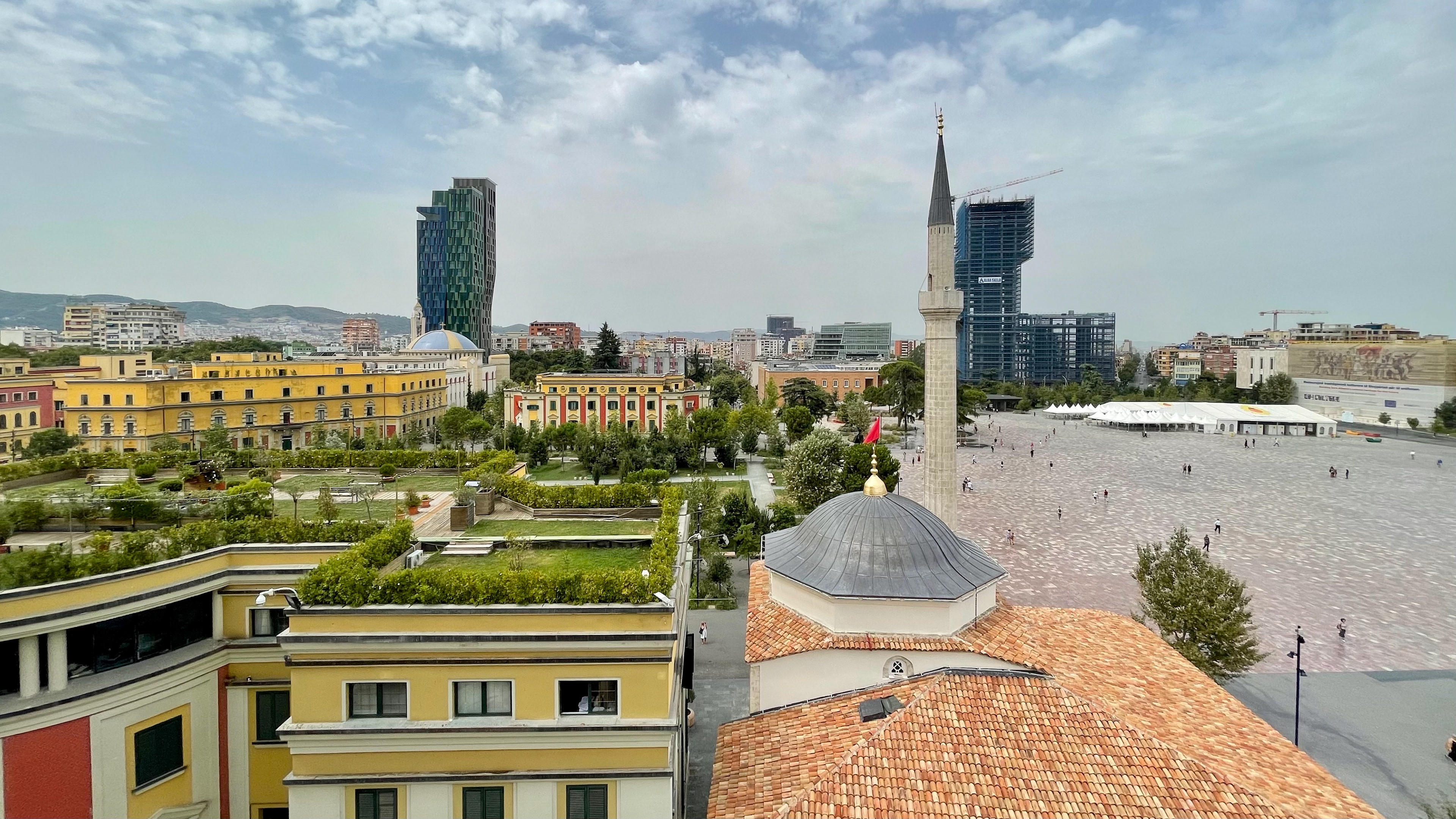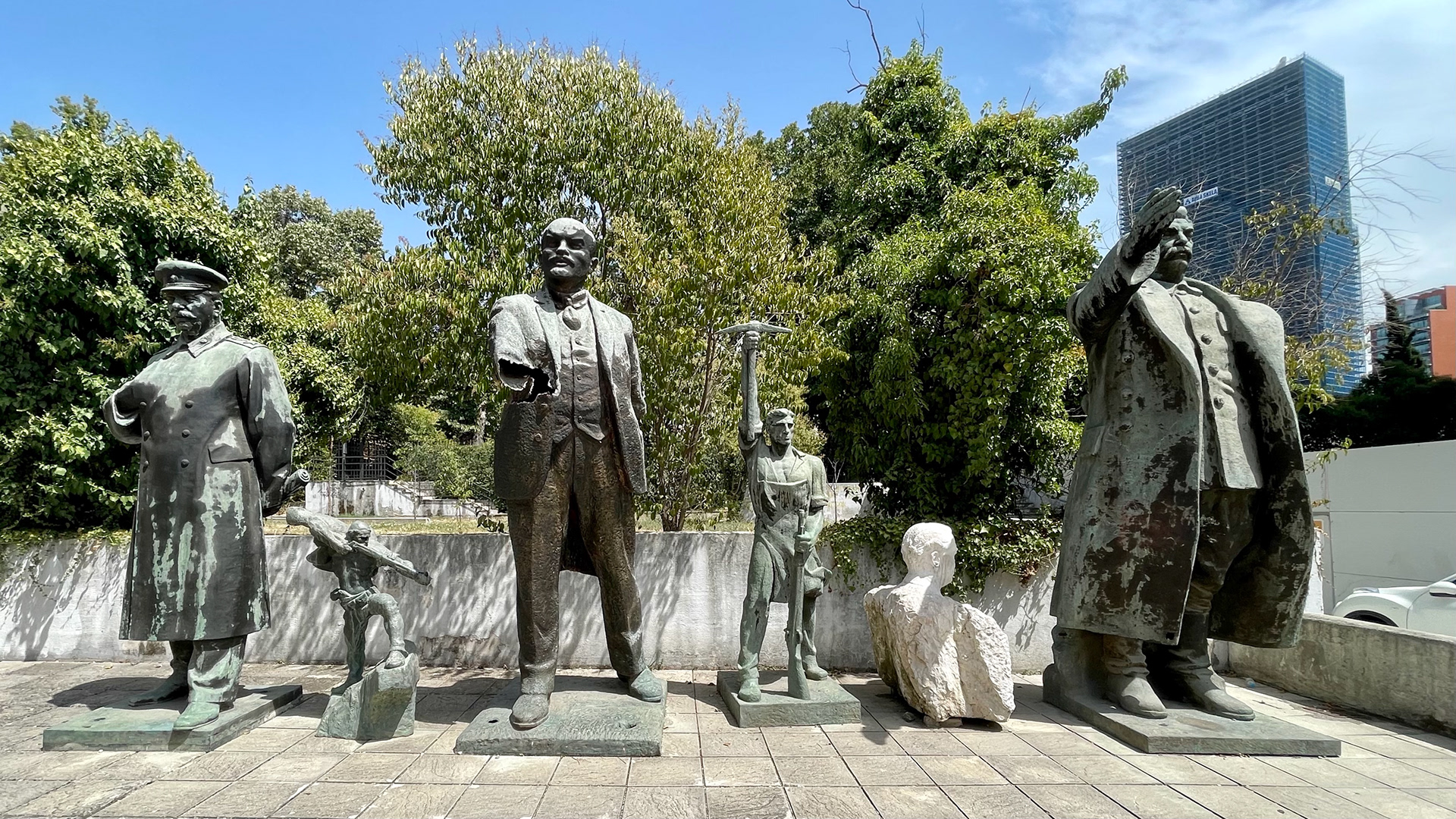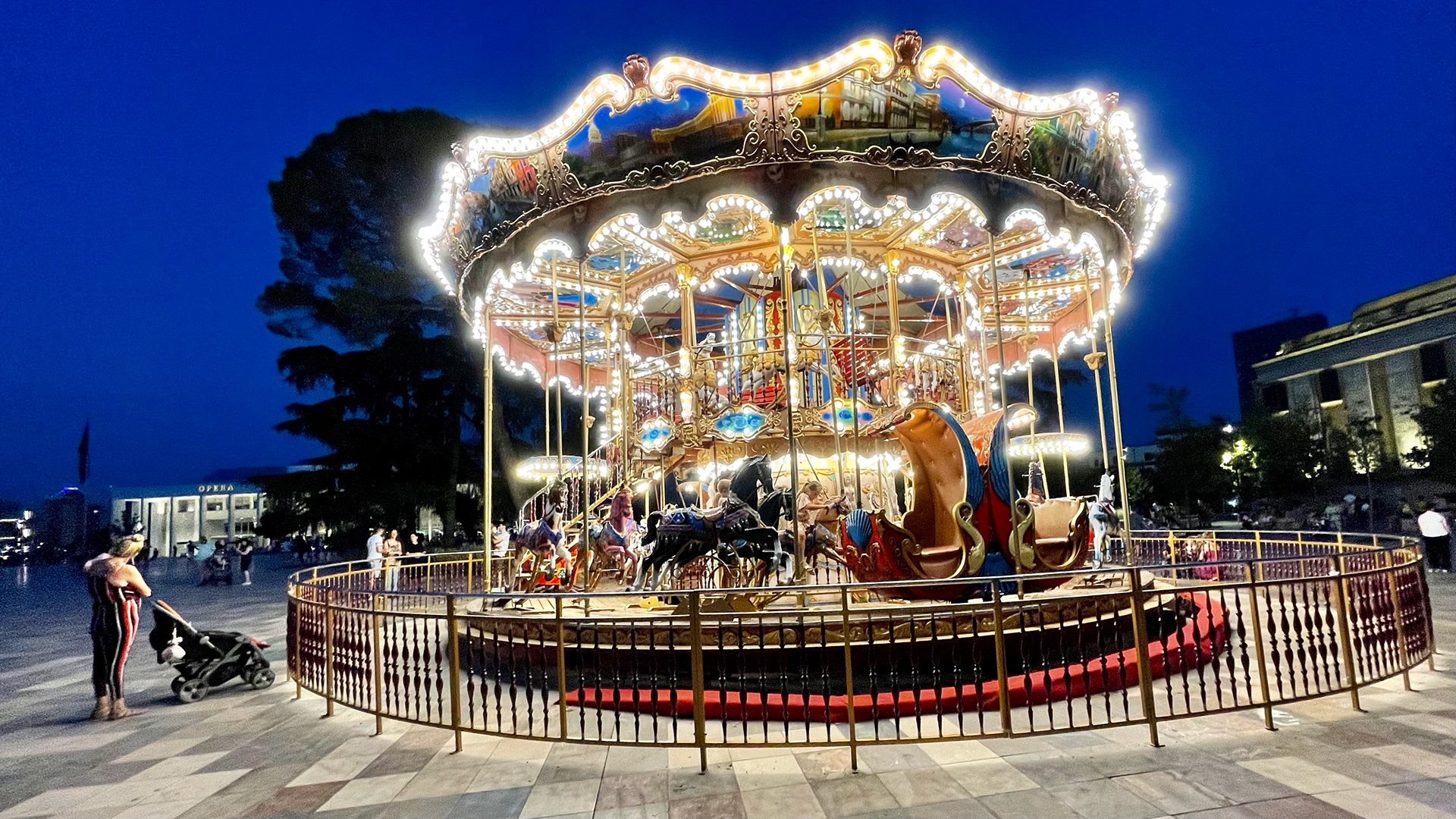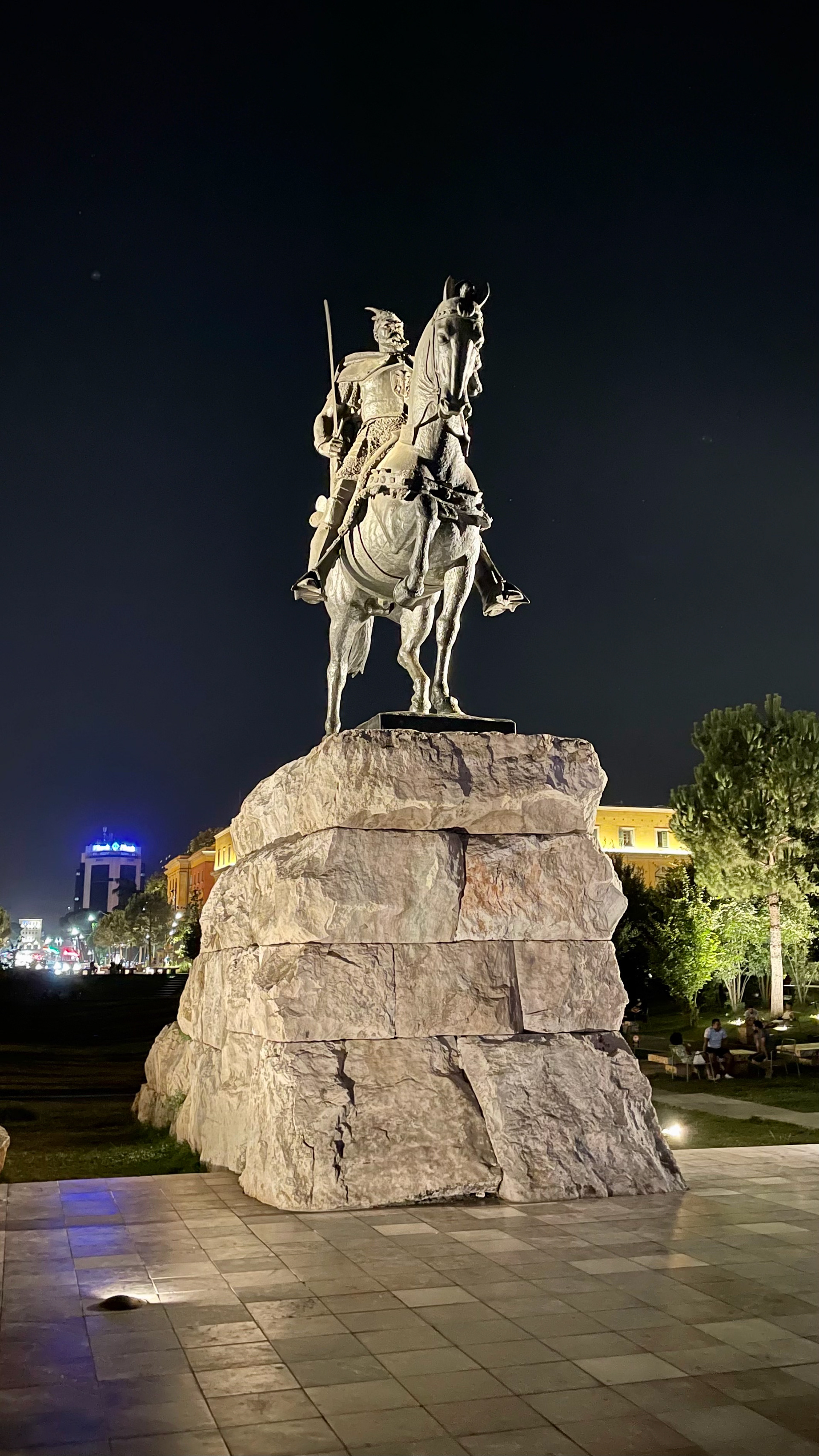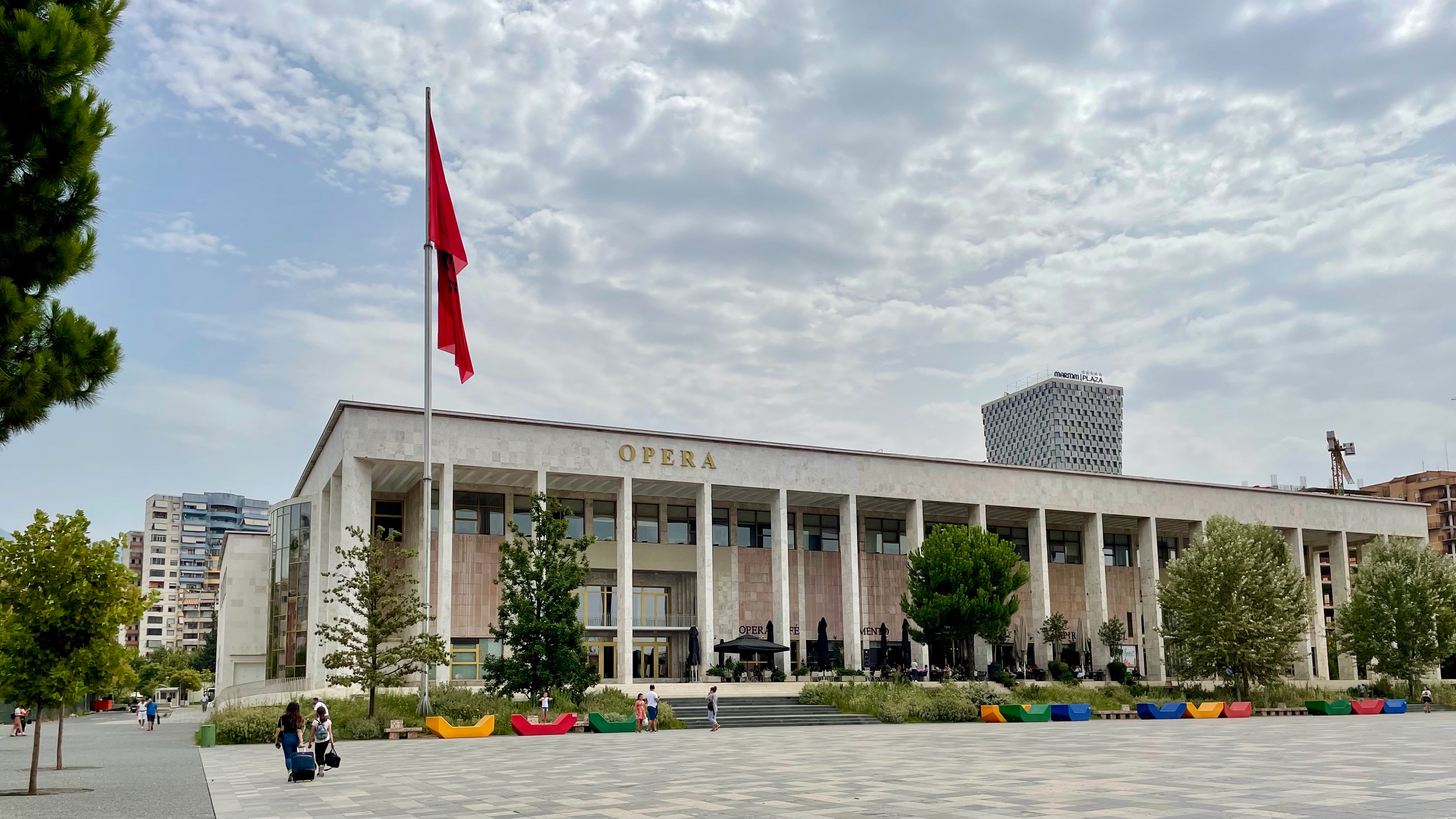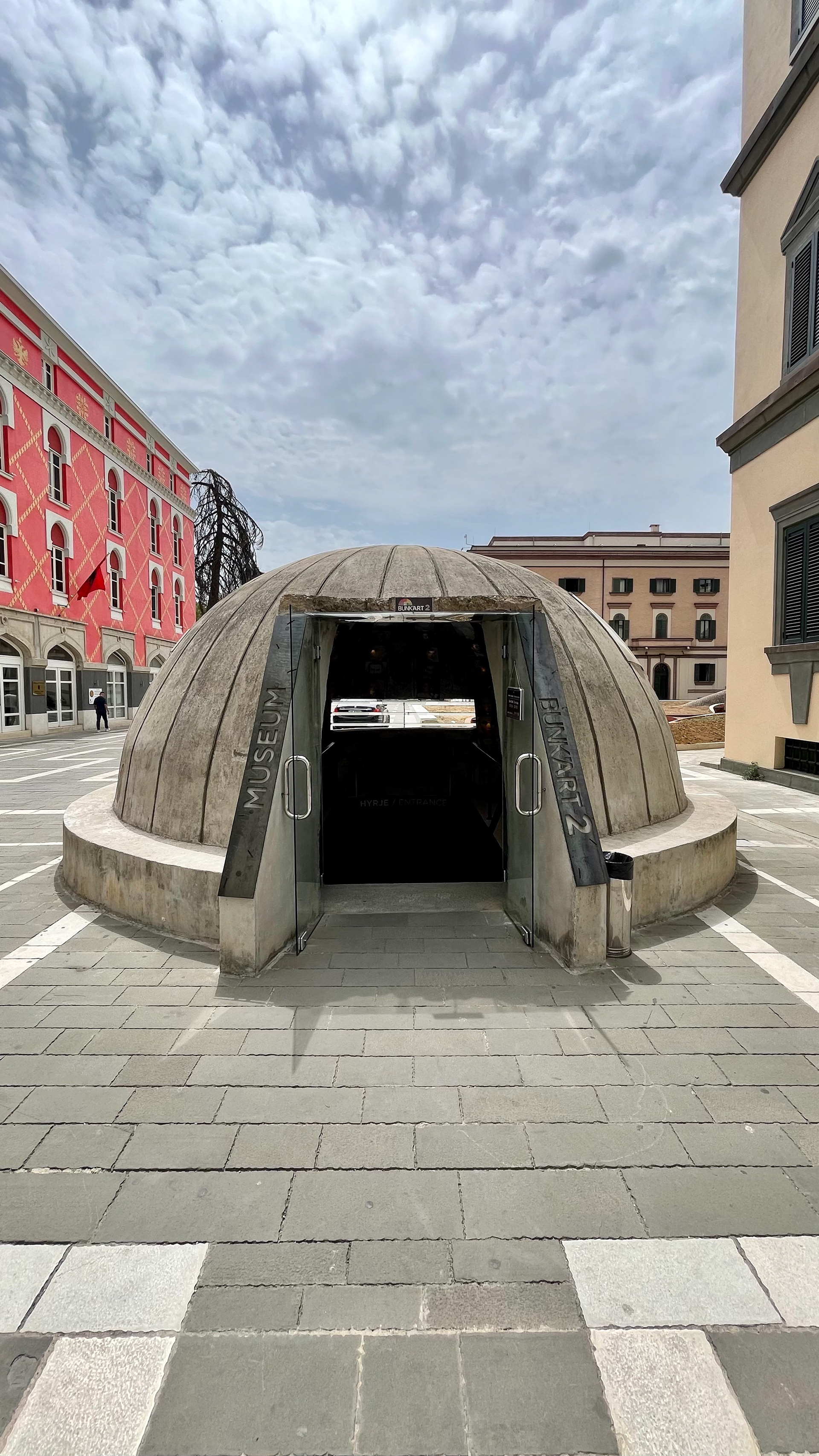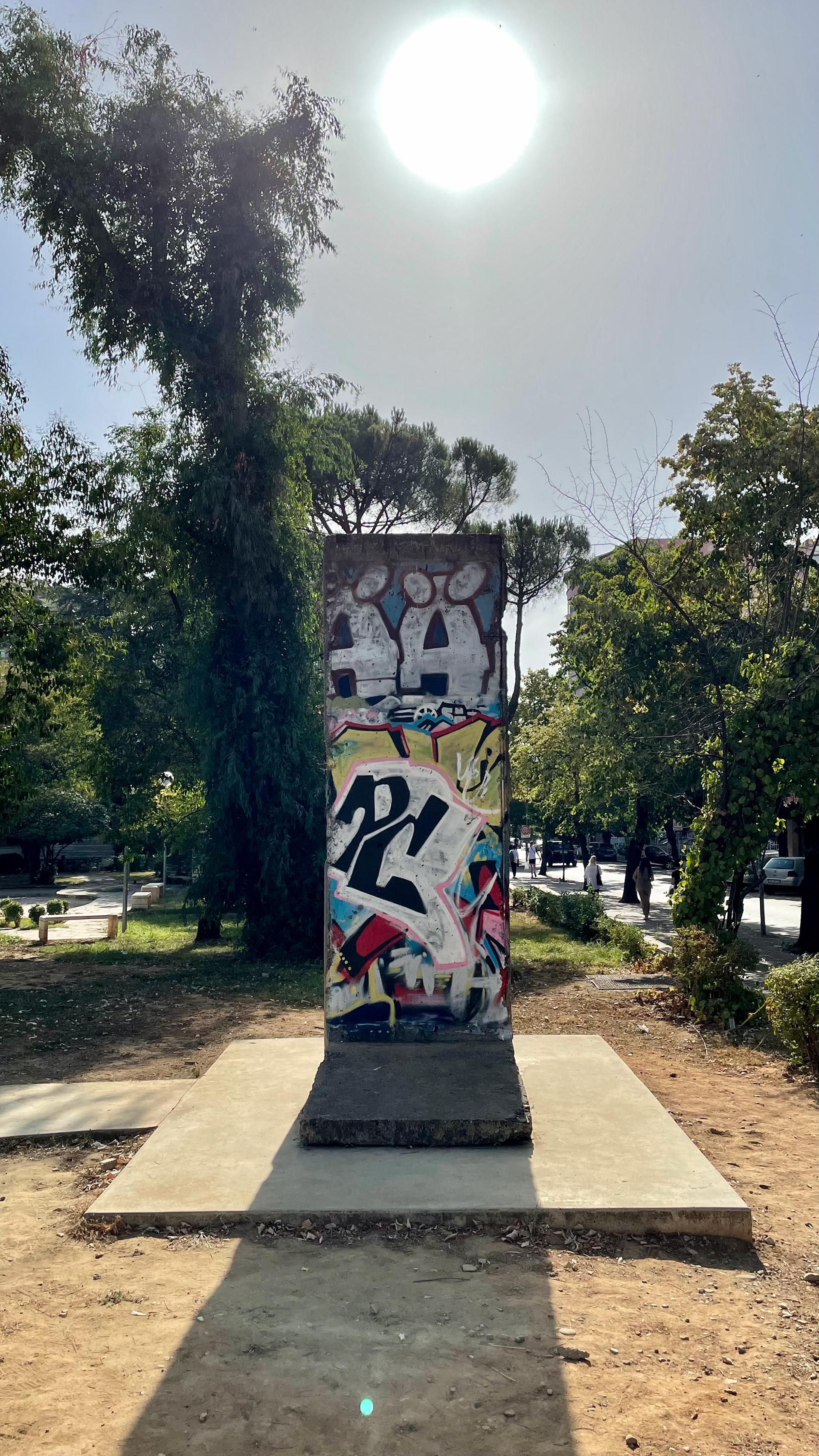 The Albanian Riviera
A lesser known destination than the likes of Greece and the Amalfi Coast, the Albanian Riviera's many small towns and villages will give the popular Greek and Italian destinations a run for their money. The impeccable golden beaches and turquoise waters along the Adriatic and Ionian Seas are a great place to catch the rays for effectively a third of what it would cost to do it elsewhere. The coastal drives are comparable to those in Italy with breath-taking views and plenty of bends and climbs up mountain faces. 
Basing ourselves in Vlorë, we took a day out to tour the Rivera's many sights. Don't let the maps fool you - whilst things look close together, the traffic coupled with winding roads that climb some pretty tall mountains will mean that you'll spend a lot of time in the car and on the road. 
Setting off after an early breakfast, we headed to the
Blue Eye
near Sarandë, a 2h30m drive from Vlorë. A water spring and a natural phenomenon, the clear blue water that rises from a depth of greater than 50m is stunning.
Heading west, the seaside resort of
Sarandë
was a great place to stop off for lunch. Set in a horseshoe-like bay, the city offers a number of beaches and a promenade with restaurant and bar options. 
For our afternoon beach stop after lunch, we headed north to
Lukova beach
which offers crystal clear waters and a white, sandy beach. 
For our final stop, we headed north to quiet town of 
Himarë
, where the main beach is popular amongst the locals. Crystal clear, blue waters and a beautiful sunset made this a relaxing stop. 
The drive back up to Vlorë was long and tiring but interesting with a climb up Mount Çika from sea level up to 1100m on the SH8.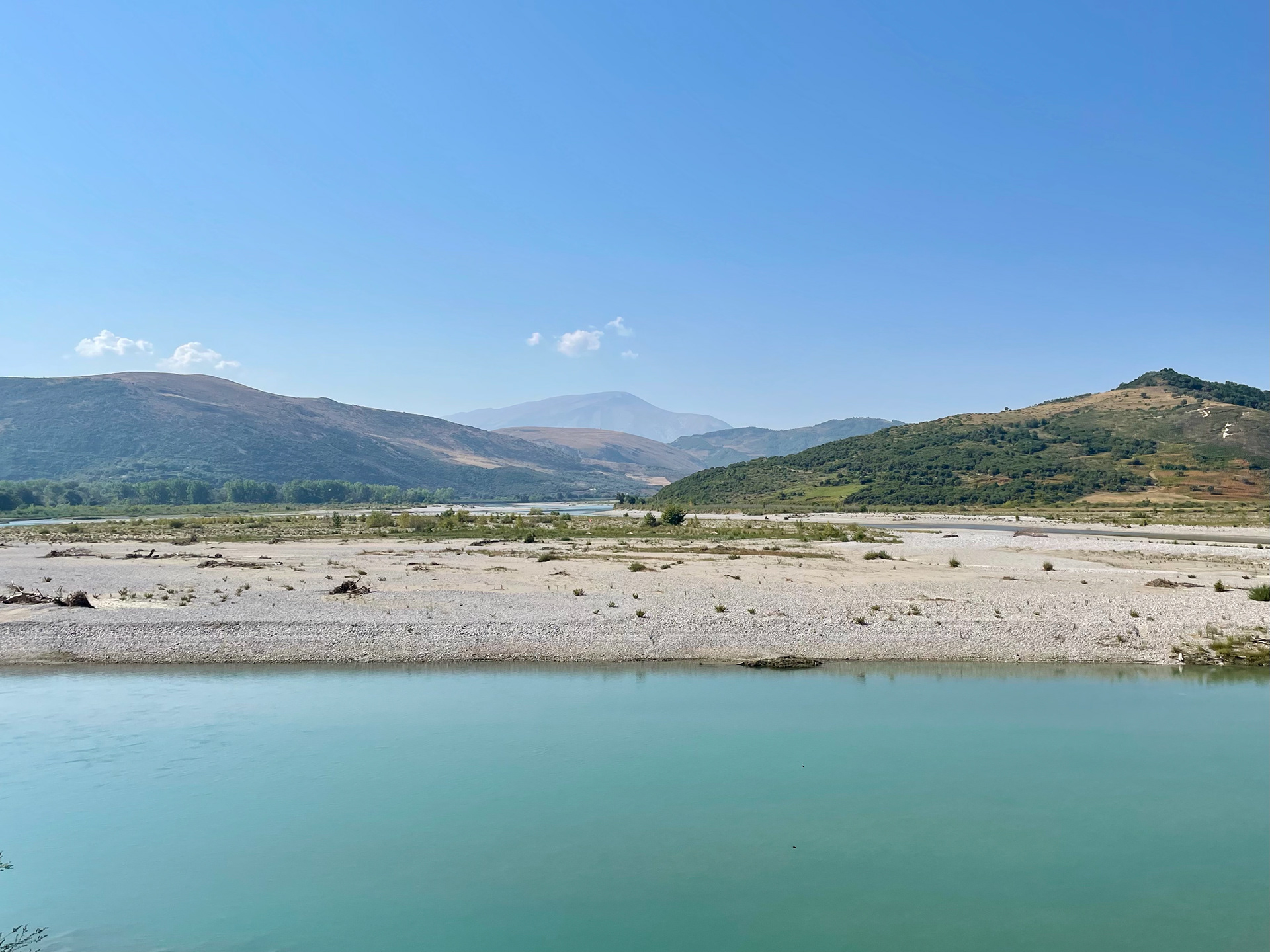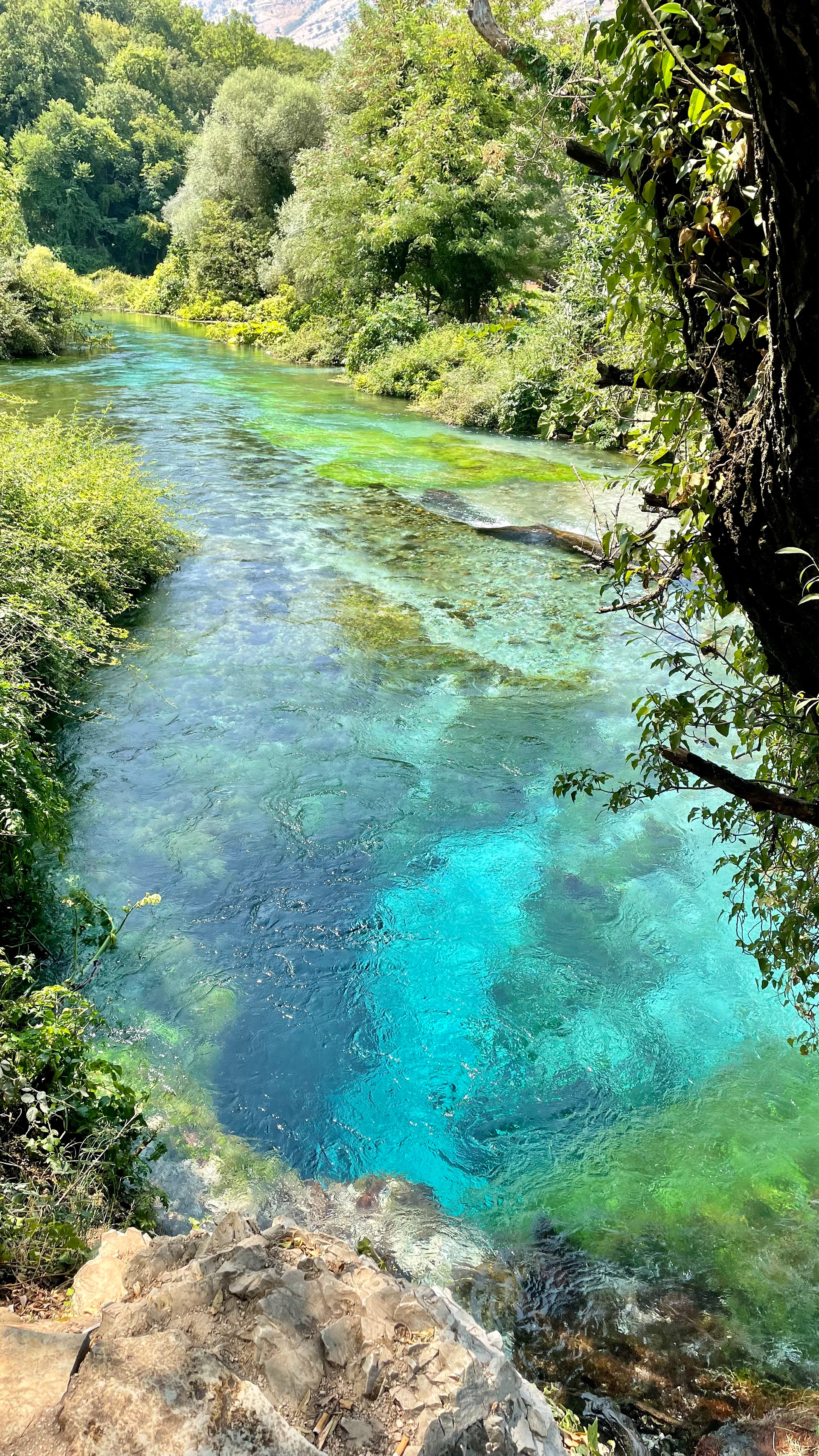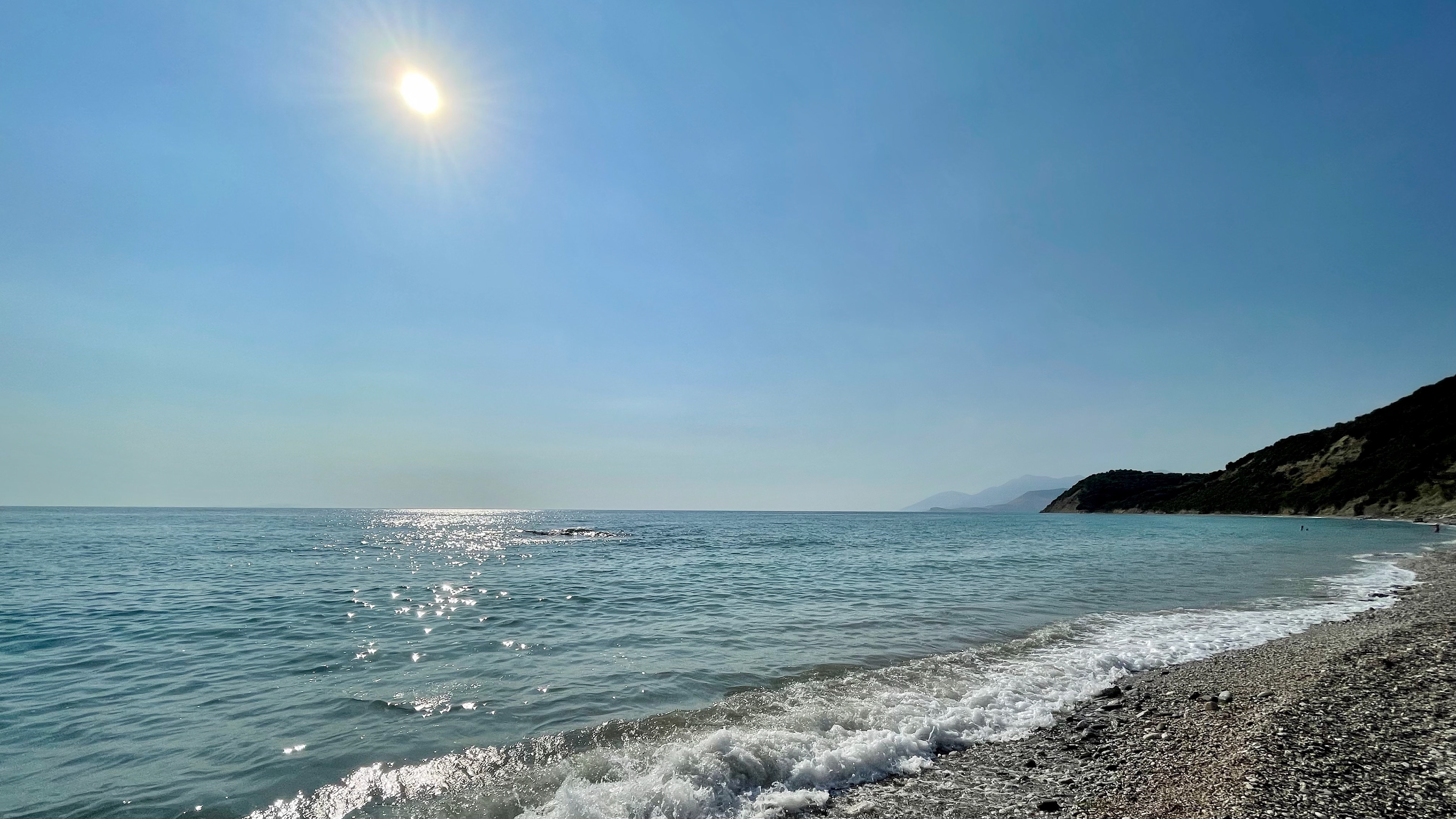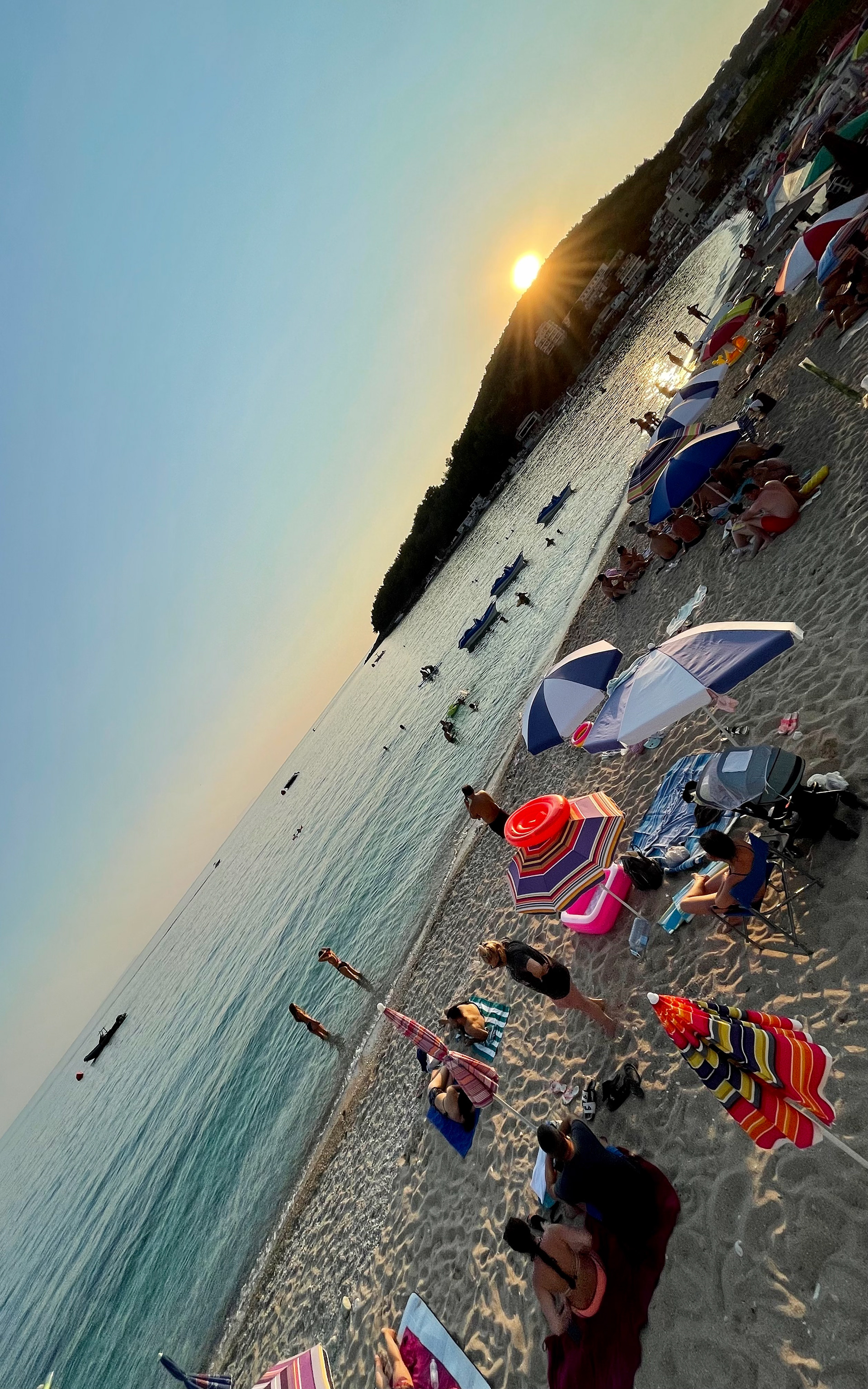 Vlorë
Back in Vlorë, the town's defacto public space opposite our hotel attracted a range of different music events and a fair ground every night during our stay. Its definitely somewhere to go along, have a wander and watch as the locals enjoy a dance and a sing-a-along. 
We chose to explore locally on the last full day of our trip and visited
St. Mary's Monastery
, located on an island off the
Narta Lagoon
. The medieval Byzantine church stands amongst a woodland made up of pine trees and is accessible only via a picturesque wooden bridge. 
For our afternoon beach stop, we chose
Bora Bora
beach just south of Vlorë main beaches and promenade. Owned by a private beach club, it offers loungers and cabanas for hire.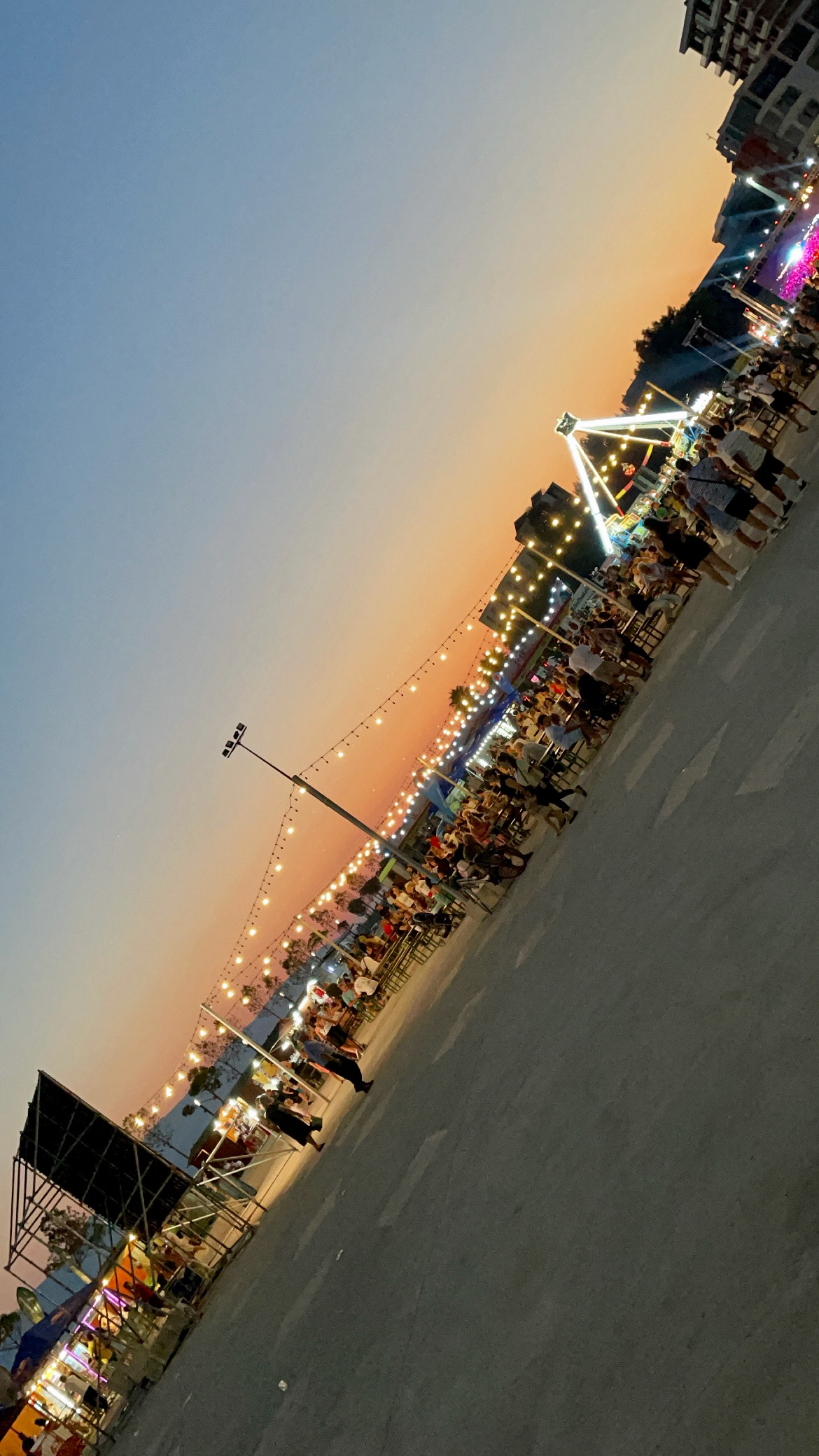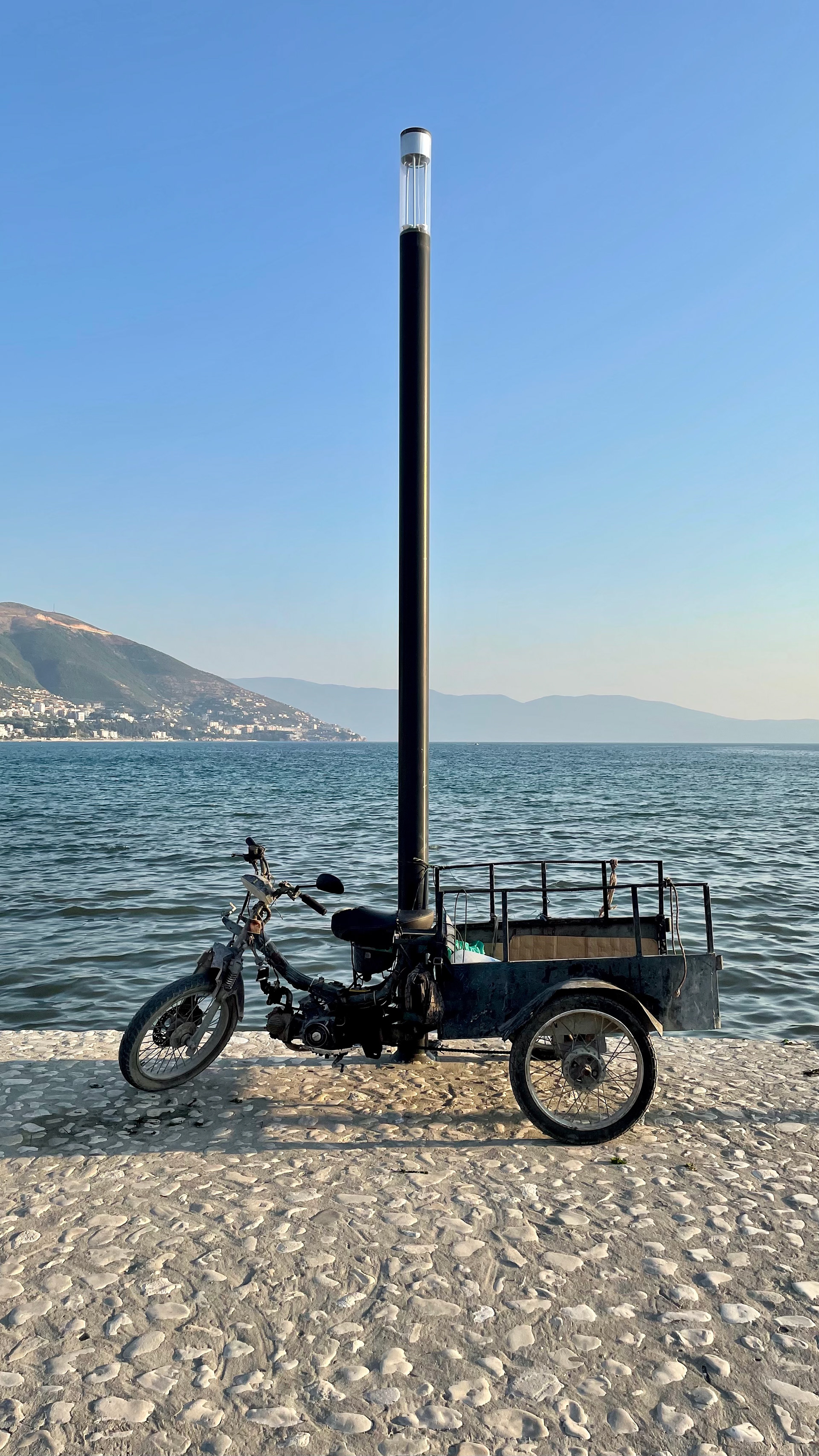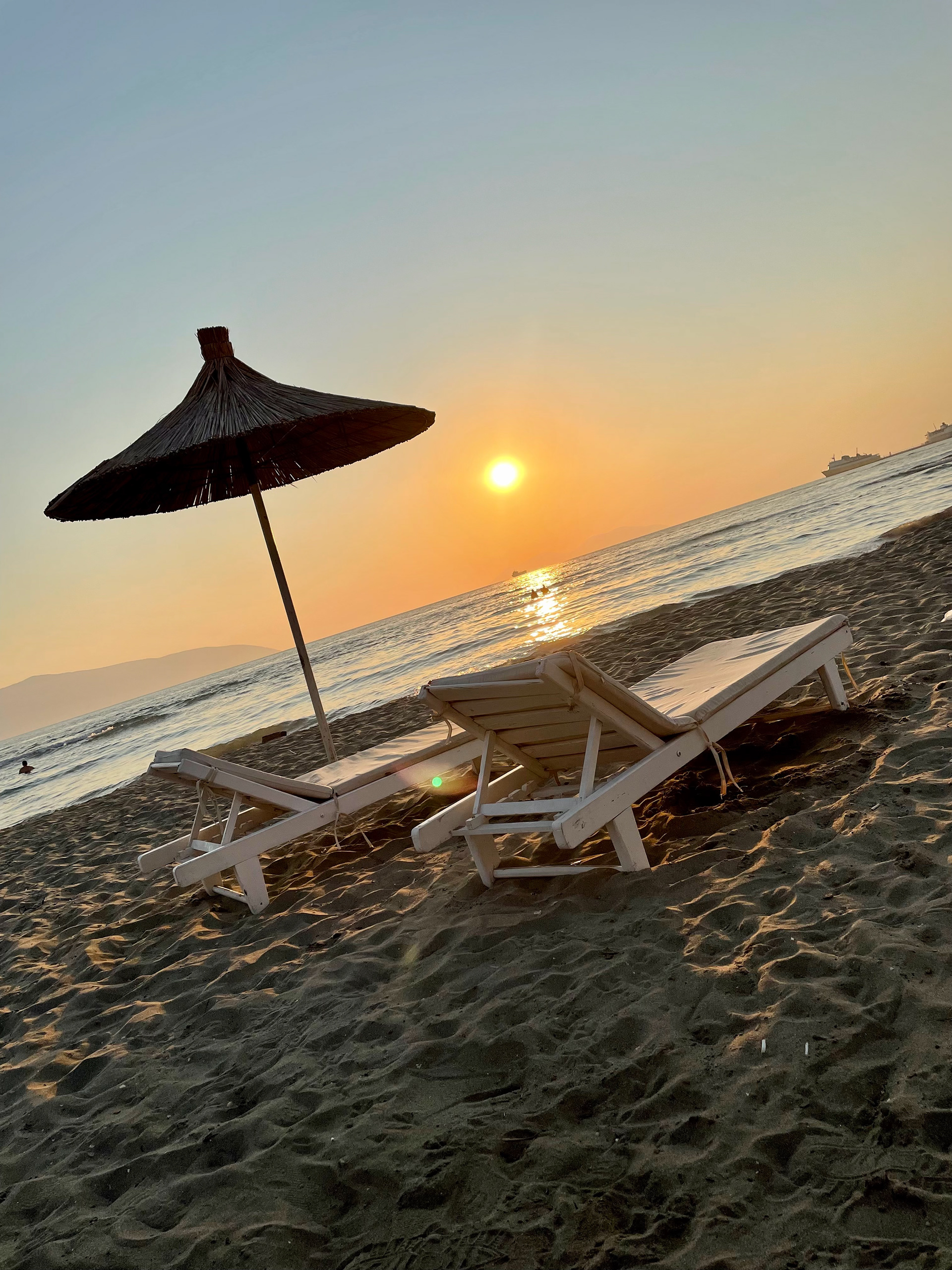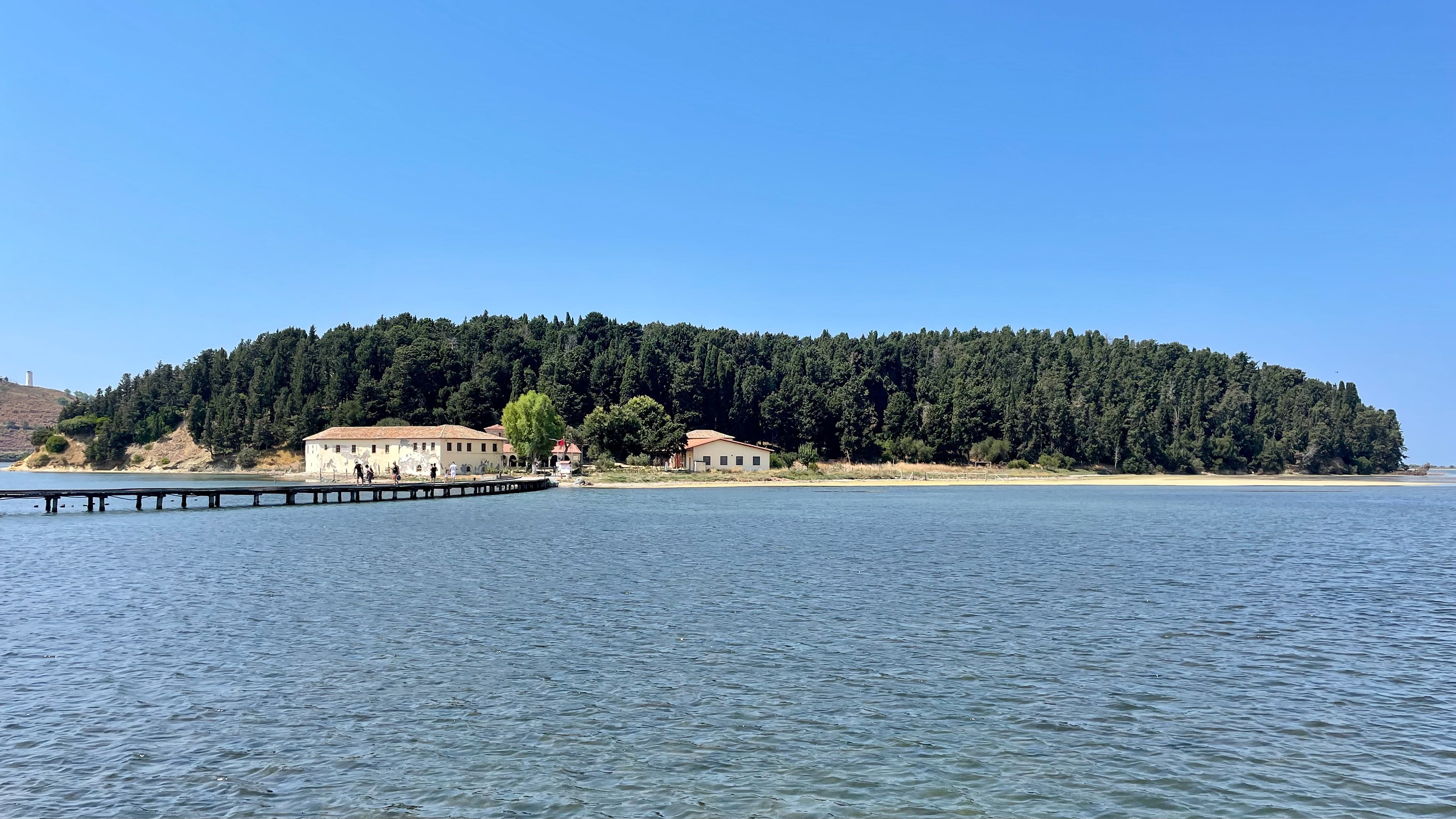 Other notable stops
On our drive back to Tirana for our flight, we had some time to make a few stops along the way. Aside from stopping in Dürres for lunch, we had stopped at
Apollonia
, the ruins of an Ancient Greek trade colony, most of which are still buried underground. Whilst not as impressive as the Acropolis of Athens, the ruins are well maintained and well worth a visit if you're interested in learning the history of the places you're visiting. 
Near Tirana airport lies the small ruins of the medieval 
Prezë Castle
, which offers some amazing views of the surrounding area, from its hilltop vantage point.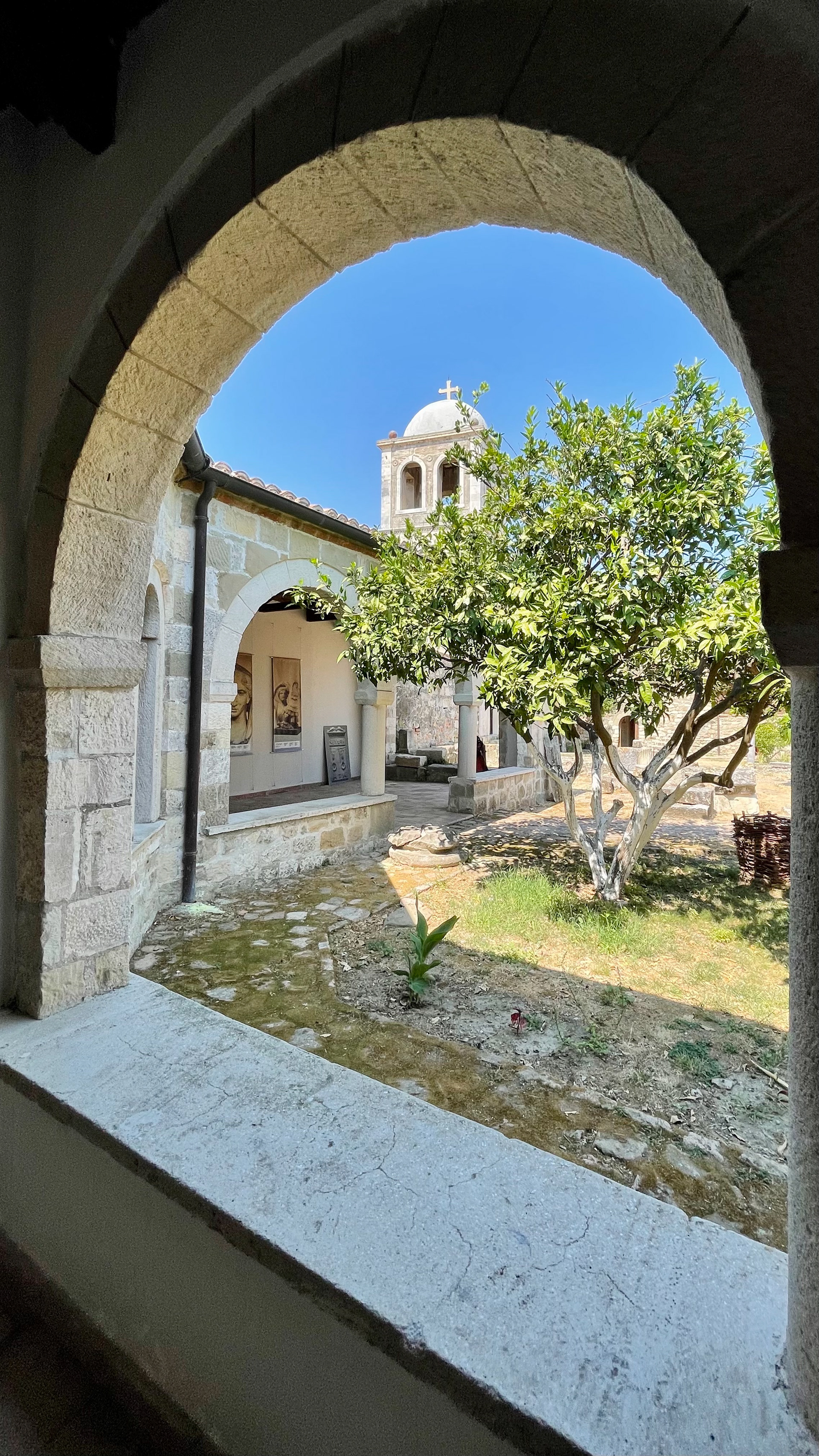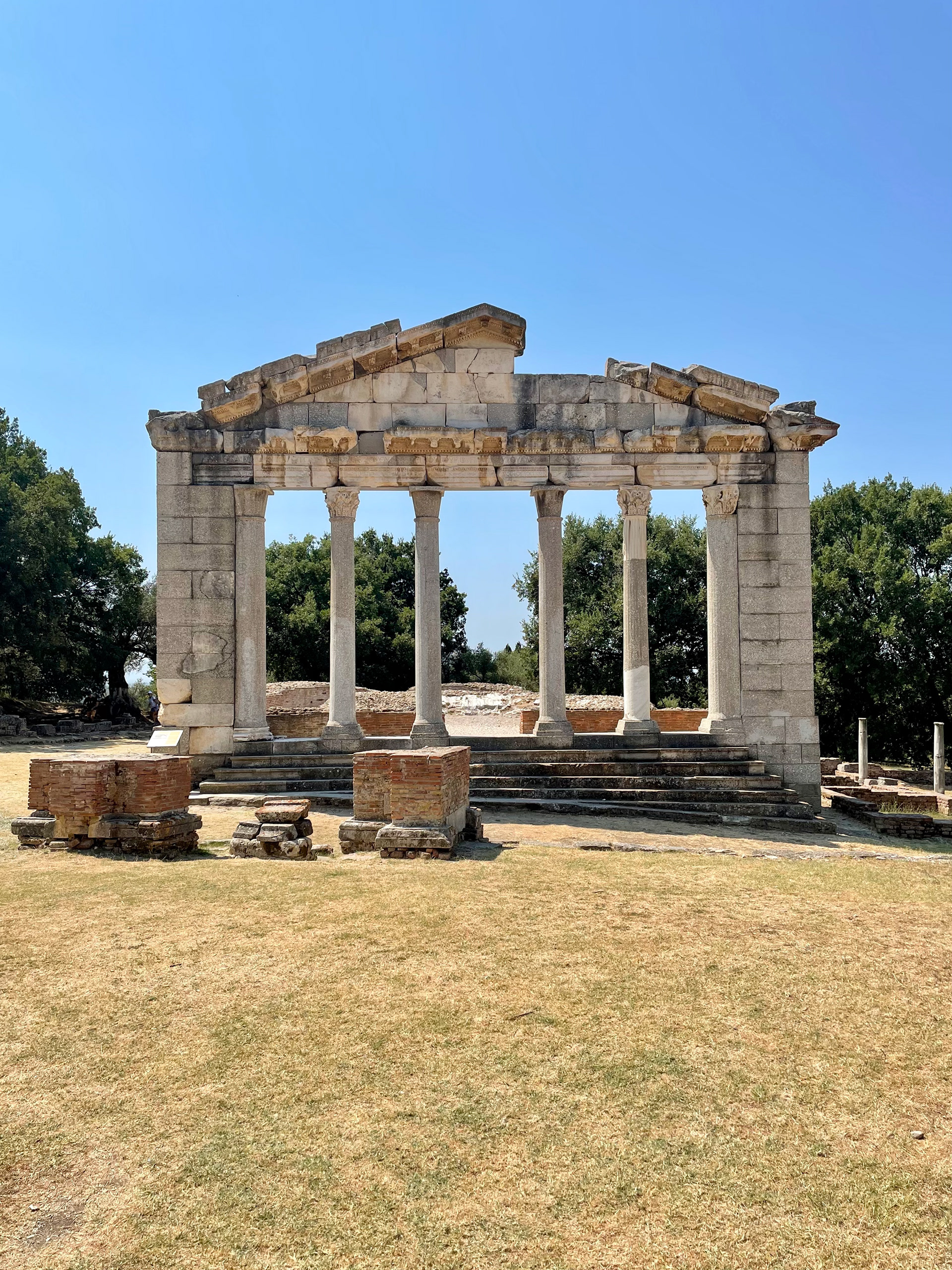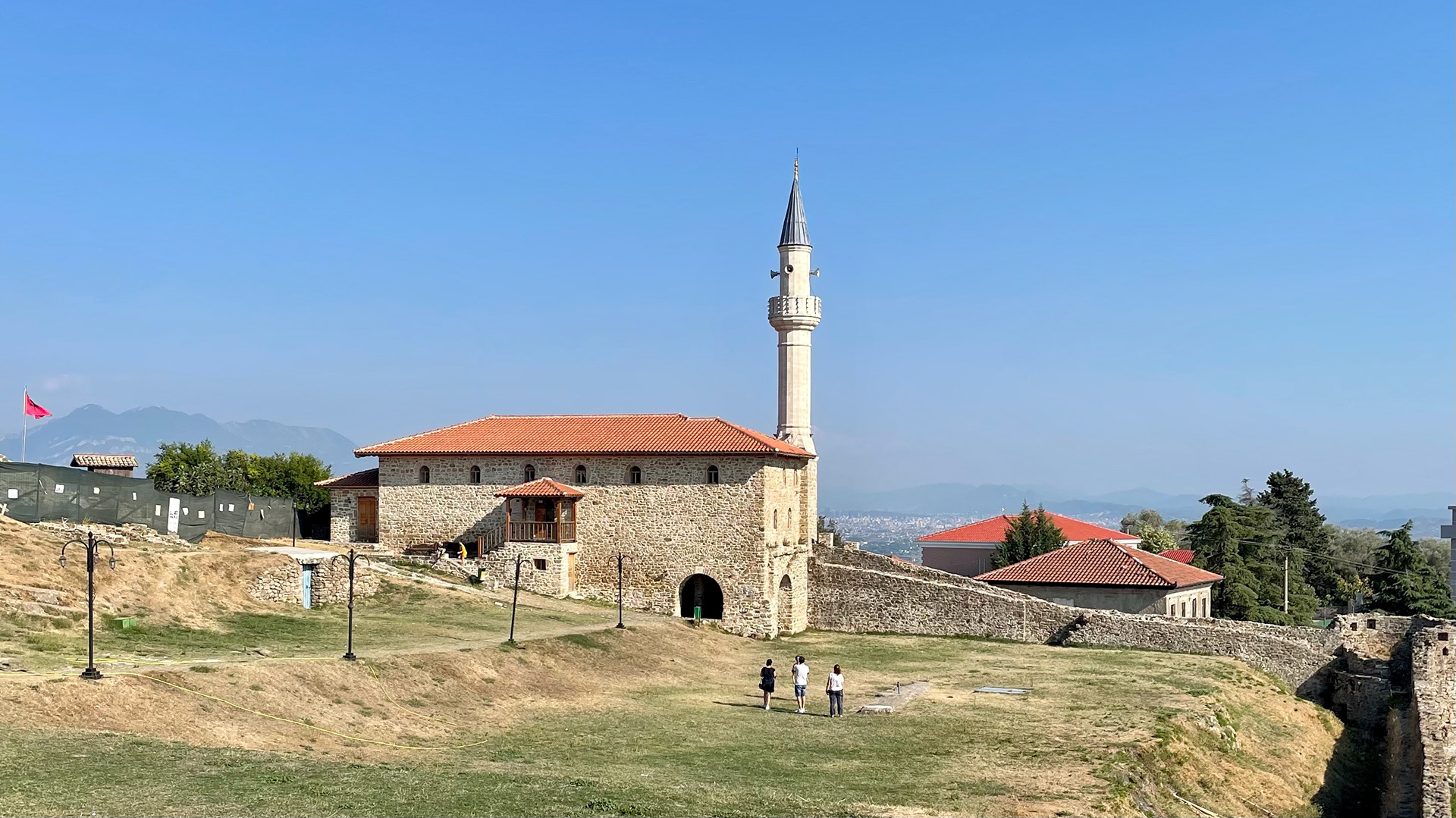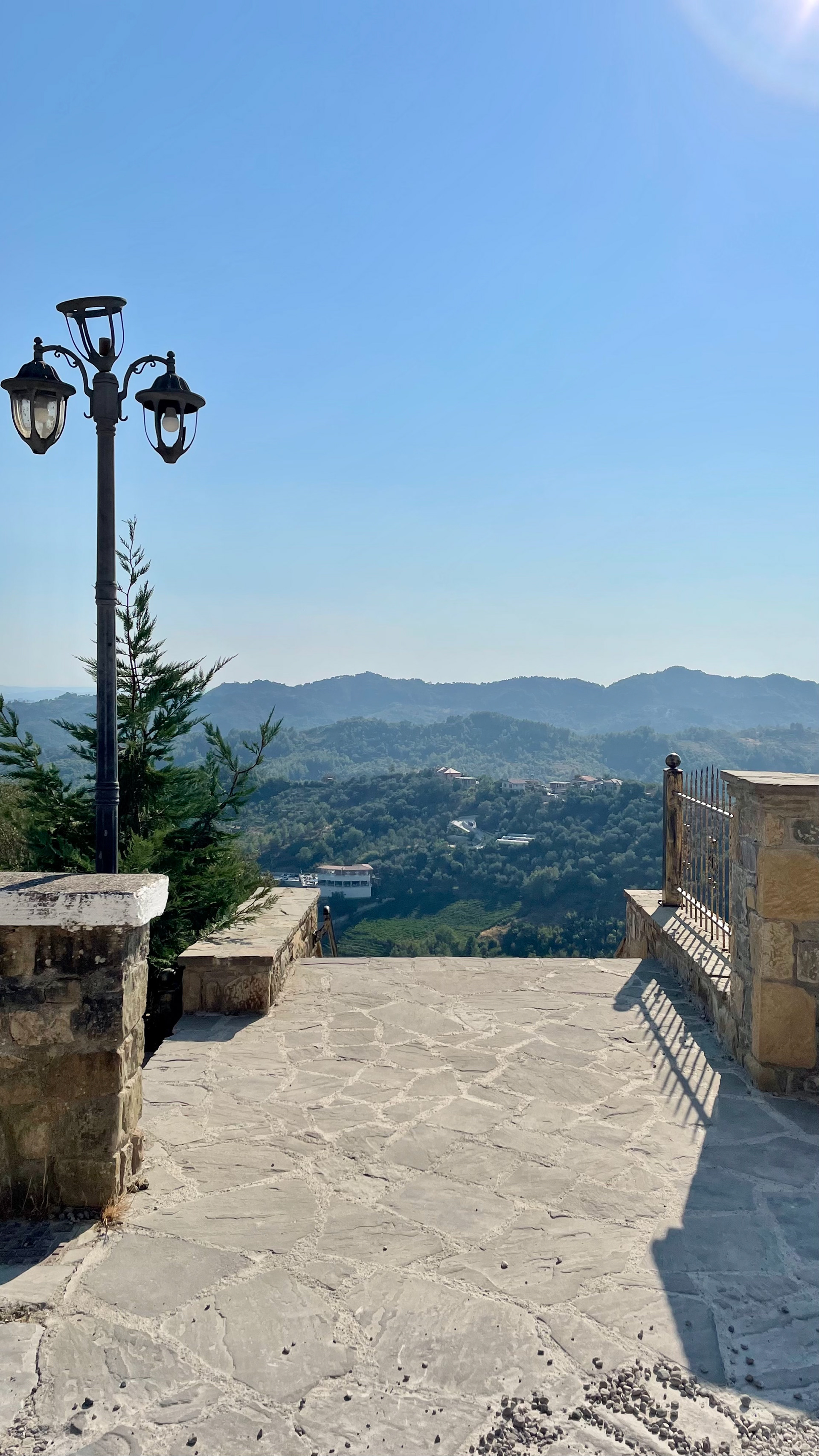 COVID Testing
At the time of departure, Albania did not require any testing prior to arrival. Coupled with the country being on the UK government's amber list and the fact that both Aaron and I were double-vaccinated, we were only required to complete 2 COVID tests: one prior to departure from Albania back to the UK and one no more than two days after arriving in the UK. 
For the pre-Albania departure test, I opted to use
Qured
(
www.qured.com
) again who provide a virtual testing experience for an affordable £33 (£39 without discount). The lateral flow testing kit is posted to your home address before you leave for your trip so that you can pack it in your suitcase to take with you. (Make sure you've ordered the test with enough time before you leave for your trip!) Whilst away, you book an online appointment with an advisor who walks you through the test and verifies that you have completed the test correctly before leaving you with instructions on how to get your Fit to Fly certificate. Although I'm a huge fan of the Qured product, the experience can vary. For example, my advisor was almost an hour late this time round, which ate into our evening dinner plans. 
For my Day 2 test, I (again) used
Randox
 (
www.randoxhealth.com
), a well known name in the COVID-testing game. For £43 (£48 without discount), the test is as easy to administer as the one's we've gotten used to over the past 12 months. The only slightly annoying thing with Randox is that returning a sample requires you deliver the sample to a DX dropbox...and they're not that easily accessible. For example, I had to drive to a M4 service station to drop off my sample. 
Bottom Line
Albania may not be an obvious holiday destination but if you're courageous and fancy a trip to the sun, that's cheap and off-the-beaten track, then I'd definitely recommend it. Albania is still relatively untouched by tourism and contrary to what people say, is a relatively safe place to visit. Personally, I didn't witness any sort of crime during our stay and there wasn't the need for Liam Neeson to swoop in and save the day. Everyone we came across were friendly and the staff working at hotels and restaurants seemed to genuinely be interested in delivering good service to tourists. 
Making full use of the flexible booking policies out there meant that arranging this trip was, again, relatively stress-free. Booking in advance is recommended, especially when it comes to car hire as vehicles are in high demand given the challenges with public transport. COVID testing has become the norm now and we're relatively well rehearsed so there were no added complications here. The introduction of reduced COVID-testing requirements for fully vaccinated travellers has helped to bring the cost of this trip down further.